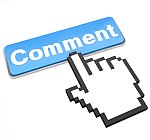 It's been known in the Internet marketing and blogging community that commenting on blogs is effective for driving traffic, but many may not have had much success with this technique. The problem often is that an individual's blog comments are not good quality and the blog author considers the post to be spam. In this case, your time is wasted because the post gets removed. Always look to add value to the conversation, not just type a one or two-word post that says "Thanks" or "Good article" which shows you're simply looking for a link. In addition, don't spam the author's post with sales related information to push your product or service onto their readers.
Another issue is choosing the right blogs to post. Find out more about the blogger before making a decision to choose a blog for commenting. Follow them to get a feel for their style and what topics they deem relevant.
Look for blogs that have a page rank of PR4 or higher and cover topics that are related to your site or offer marketing information in general. This way you'll be able to capitalize on a targeted audience that visits this particular site. These higher authority sites rank better in search engines and your posts as well as your blog links will get indexed faster. This offers a great way to get quality backlinks and organic search engine ranking.
Try to start following blogs that you're interested in for a while to see when new content is posted. If possible try to be one of the first couple of people to comment on a new article. Once you become a regular and your links are seen by more and more viewers you'll start to generate more traffic to your blog link posted on the website.
When preparing to post use a Gravatar to identify yourself when you post comments. This helps with branding and once you start becoming a regular, visitors will start recognizing your comments particularly if you have helpful or interesting posts. Start becoming a resource by becoming the person that can offer advice and provides an interesting perspective on the conversation.
In your search for blogs for posting comments try to find ones that also have the CommentLuv plugin enabled. When you comment on these blogs you'll get additional exposure for your site. What CommentLuv does is create a link to your most recent blog post immediately after your comment.
Here are a few high PR blogs that also have CommentLuv enabled for visitor comments:
bloggingtips.com – PR5
intenseblog.com – PR5
comluv.com – PR5
freebloghelp.com – PR4
weblogbetter.com – PR4
Some of these blogs also have an additional feature in the CommentLuv plugin that allows the person posting to receive a total of 10 links to the latest posts on their blog. You'll see a small red heart after the title of your post where your visitors can click to view them.
Commenting on blogs is an old technique which can still generate quality traffic when used responsibly. It can also help you build relationships and allow you to become an authority in your niche.