WordHero AI is an AI-powered writing software that helps you create better content with less effort. In this Wordhero AI review, I will be taking an in-depth look at WordHero AI, exploring its features, pros, and cons. I will also be giving my final thoughts on the software, so you can decide if Wordhero is the right AI writing software for you. So, let us get started and take a look at WordHero AI.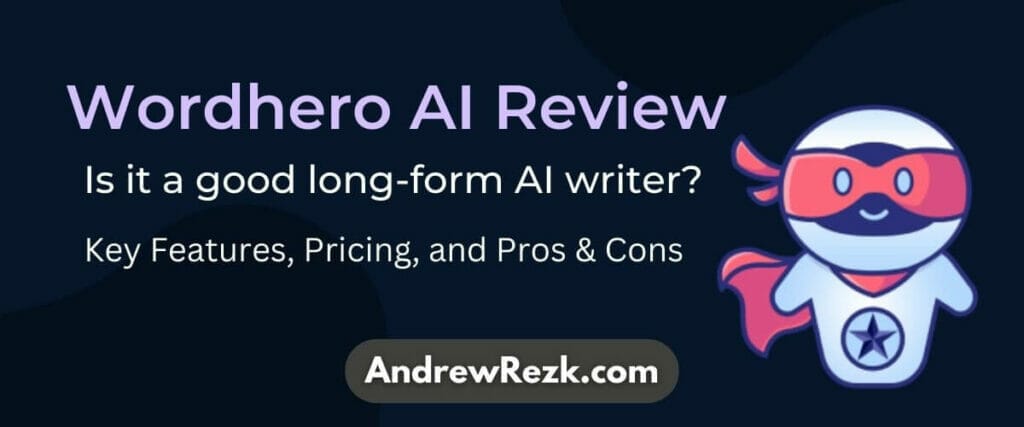 What is Wordhero?
Wordhero is an AI-powered writing software that uses natural language processing (NLP) and machine learning (ML) algorithms to produce high-quality written content. Its user-friendly interface allows users to easily generate content, while its advanced AI technology offers increased accuracy, efficiency, and consistency in producing content of the highest quality. In addition, the software includes various AI writing tools that enable users to customize their written documents according to their own specific needs and preferences.
Wordhero can be used for a variety of purposes including creating long-form content such as articles, blog posts, essays, books, novels, and stories as well as short-form content such as marketing copies, blog titles, headlines, email content, social media ads, product descriptions, call-to-actions, and much more. Additionally, Wordhero has a long-form editor with a keyword assistant tool that lets you add any SEO keywords, then the AI will attempt to include those keywords automatically throughout your articles so that content is more likely to rank higher in search engine results pages (SERPs).
So, Is Wordhero a good tool?
Yes, I think Wordhero is a good AI writing tool mainly due to its ease of use, friendly interface, variety of AI templates, and powerful long-form editor. All of which makes Wordhero a good choice for writing long-form blog articles, essays, recipes, books, ads, marketing copy, and many other writing use cases.
Among all AI writing software, Wordhero AI is one of my favorite tools for writing long-form content. Although it doesn't have some features like a One-click Article writer, Chat writer, and Boss mode like the ones found in Jasper, I think Wordhero is still good because it offers unlimited content for a reasonable price and the long-form editor makes it easy to create any type of content fast.
Wordhero AI Overview
Wordhero AI is quickly becoming a popular choice for those seeking an effective and efficient way to improve their writing. This cutting-edge artificial intelligence program is designed to help writers of all levels create more polished and professional pieces of writing and improve grammar, spelling, syntax, and much more.
Wordhero AI utilizes advanced algorithms and natural language processing technology to produce high-quality, long-form content without any hassle. This software is easy to use and has an intuitive user interface that makes creating content a breeze. Plus, the long-form content editor allows you to create powerful essays and articles with ease. Watch this video to see how easy it is to use Wordhero to produce content in less time.
Save 50% on Wordhero monthly or get the lifetime deal
What is Special about Wordhero AI?
One of the best features of Wordhero AI is the fact that it offers unlimited content per month. This means that you can create as much or as little content as you want without paying for additional words.
Another great benefit is that it has a very intuitive long-form editor that makes writing long-form content such as articles and blog posts easier. The long-form editor lets you navigate easily between all the +70 AI writing tools to write the perfect piece of content, plus it has a "Write More" button that lets you write more content with a click of a button. This can really help overcome writer's block.
Lastly, Wordhero is offering a lifetime deal for a very affordable price for a limited time, which may not be available for a long time so grab it while you still can.
Wordhero AI Features
Wordhero AI Pros & Cons
Wordhero AI Dashboard
Wordhero AI has an intuitive user interface that is simple and easy to navigate, so even beginners will be able to create great-looking articles quickly and easily. Also, Wordhero AI has over 70 AI writing tools to fit any writing use case.
You can write anything from articles, essays, novels, and other long-form content to food recipes, stories, social media ads, introductions, conclusions, product descriptions, and much more! Wordhero AI can write in over 100 different languages, which means that you can produce content in other languages without having to be proficient in those languages.
In addition, Wordhero offers a lifetime deal (the best value for the price), so there's really no reason not to try this software out!
Wordhero AI History
Wordhero saves all the content you generate automatically. Under the history tab, you can view everything you generated for up to the past 3 months. You can also filter the generated content history by content type and language. Editor's saved documents are accessed via Editor > Top toolbar > Open button.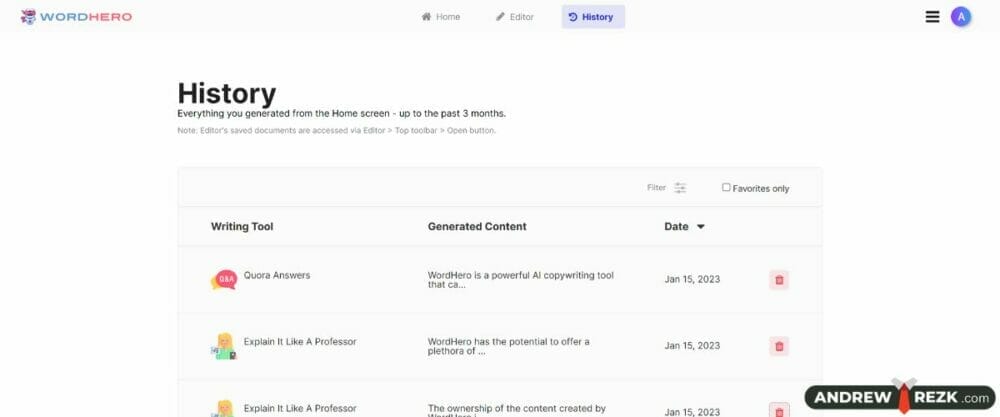 Wordhero AI Writing Tools (Over 70 AI Tools)
Wordhero aI has many writing tools (AI templates) that can fit any writing use case. There are writing tools for copywriting, marketing, emails, E-commerce, and much more. You can use these AI writing tools to generate short-form content or combine them to generate long-form content under the long-form editor. Wordhero is constantly adding new tools and updating its AI technology to improve its software.
Here is a list of the AI writing tools included in Wordhero:
That is not all, Wordhero has over 50 other AI writing tools including:
Wordhero AI Long-form Editor (best feature)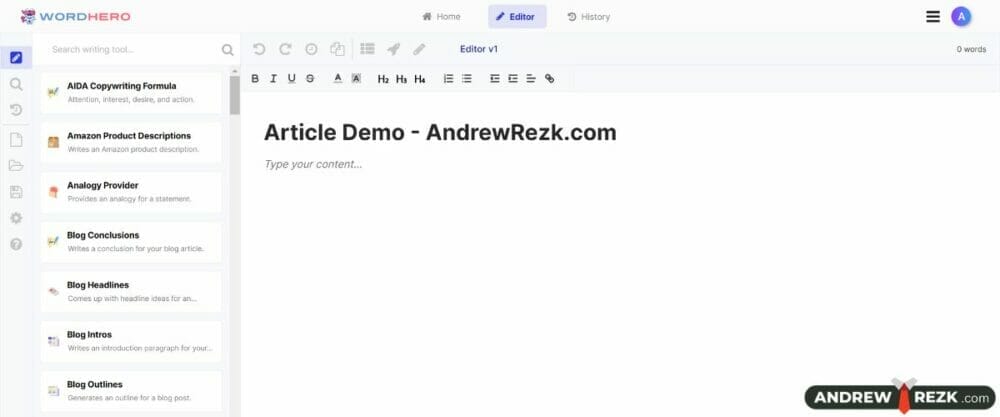 Wordhero AI is an advanced long-form editor that can help you perfect your written work. The long-form editor is a rich-text editor that lets you edit and format your content, just like editing in a Word Doc but with powerful AI features. Wordhero's long-form editor is one of the best long-form editors among other AI writing software I have tested. Whether you are writing a blog post, essay, novel, or book, Wordhero AI will provide you with a sophisticated set of features to make sure your words flow perfectly. With its intuitive interface and powerful editing capabilities, Wordhero AI can make any piece of writing shine.
The long-form editor in Wordhero has a "Write more" button that lets you write more content automatically with a push of a button so you can overcome writer's block. Additionally, you can easily navigate between all the writing tools in Wordhero to speed up your content creation and streamline your workflow in one place.
Another great thing about Wrdhero's long-form editor is that it saves the content you generate automatically. It lets you create projects and organize your content so you can work on multiple projects at the same time and you can always come back later to continue writing from where you left off.
Watch how to write a 1000-word blog article with the Long-form Editor
If you are looking for an efficient way to perfect your long-form writing projects then look no further than Wordhero AI!
Wordhero AI Keyword Assistant tool
The keyword assistant is one of the extra tools in the Long-form editor in Wordhero. It makes it easy to add your target SEO keywords to your content. You simply enter the keywords you want to use then Wordhero will automatically attempt to include them in the generated text. This is a great way to optimize your content for your target keywords.
Watch how the AI keyword assistant tool works
Wordhero Reviews and Testimonials
Most users are fairly satisfied with the overall functionality and utility of this software. It is a powerful tool for businesses, students, and professionals alike. Wordhero Reviews are overwhelmingly positive with many users praising its ability to save time, improve efficiency and enhance their workflow.
The Wordhero AI platform offers an impressive array of features including customizable templates, automated grammar correction, and natural language processing algorithms all designed to help you create compelling, high-quality content. It also provides real-time feedback on your writing style so you can ensure your work is both accurate and effective. With the help of Wordhero AI's user-friendly interface, anyone can write better content and get up to speed quickly.
Here are some of Wordhero AI reviews and testimonials:
Best Way to Level Up Writing and Brainstorming!!! ‍ I have purchased dozens of products over the last ten years and I can honestly say this is my favorite!!! I have written articles over 2,000 words long with minor editing. And it was way better than I would have written on my own. It saves me hours every time I use it and creates a much better piece of content.

– Dan-oconnell
Loving it! ‍ I've been using WordHero for a while now and I absolutely love it! It's helped me streamline my writing process and the output is always high-quality. I've used it for social media posts and generating blog content outlines and I've been really happy with the results. Its value far exceeds its price. I highly recommend it for anyone who struggles with writing or just wants to make their life easier.

– Mariyam
Extremely happy! I went with a LOT of AI writers. I'm a blog writer that also does a lot of self-publishing stories on Amazon. This thing is a huge time saver. Okay, I wouldn't try to use this to make a book all on its own, but it helps so much with writer's block. I can do 8 hours of work in 2 hours. The customer service has been amazing too. They got back to me really fast when I asked about an issue I was having. I'm extremely happy.

– James.c.lapaz
Wordhero Pricing: How Much Does it Cost?
Wordhero Pro monthly plan is $49 per month and the Pro yearly plan is $348 per year. You will get access to all the features including the long-form editor and keyword assistant. Currently, Wordhero is also offering a lifetime deal for a limited time, the Lifetime Starter plan is $89 (does not include the long-form editor and keyword assistant), and the Lifetime Pro plan is $267 (which includes the long-form editor and keyword assistant).
If you go with the lifetime plan, I highly recommend that you get the $267 plan as it offers the best value and you'd enjoy writing in the long-form editor. Plus, the keyword assistant really helps in optimizing articles for any SEO keywords that you want the AI to include automatically.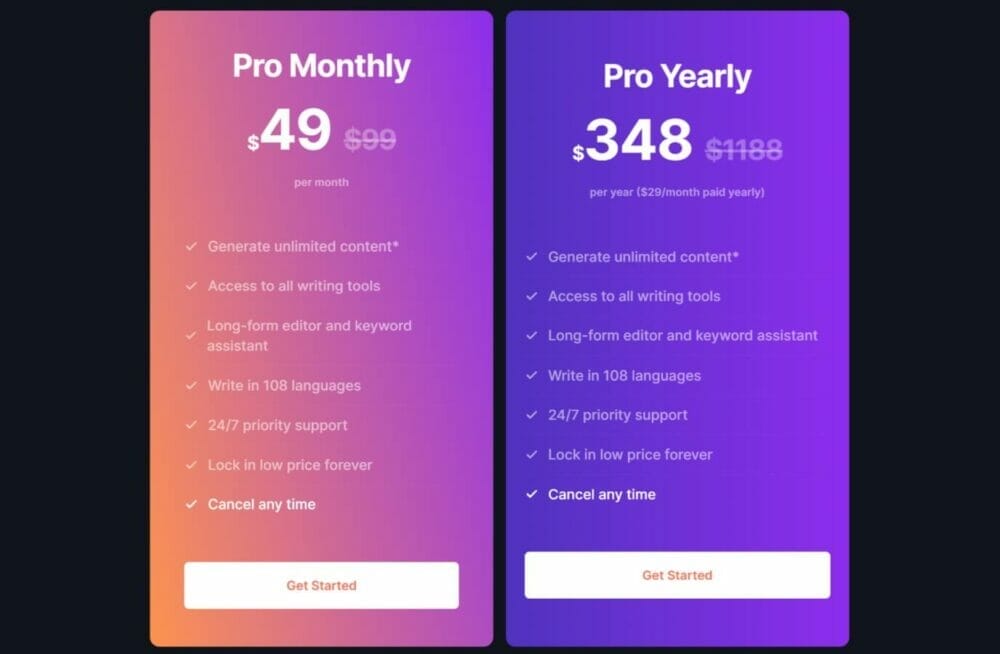 Wordhero Roadmap
Wordhero has a public roadmap that shows that it is constantly improving. Wordhero has recently upgraded its long-form editor and it is going to release its plagiarism checker soon. There are many cool features that are planned to be added in the near future.
This is one of the things that makes Wordhero great as it is being updated with new features and the latest AI technology to provide the best experience to users.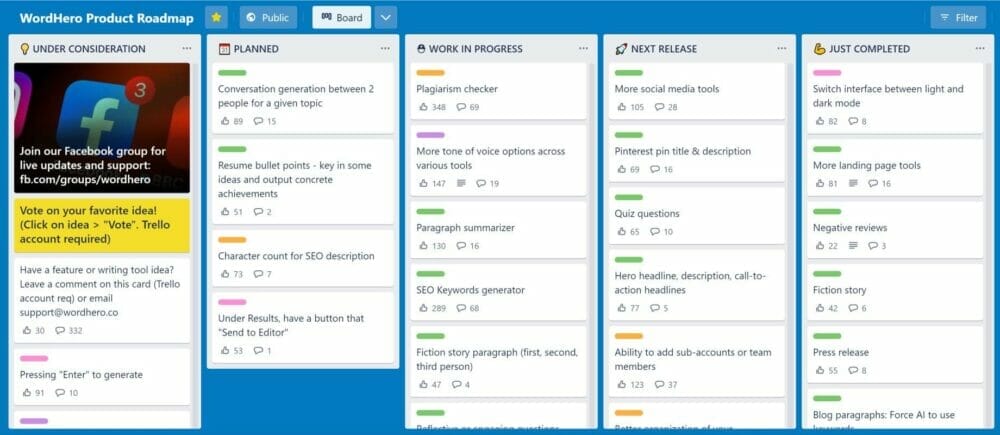 Wordhero Alternatives: Other Options to Consider
If you're in the market for an AI writing assistant, Wordhero is a great option to consider. But what if Wordhero isn't quite the right fit for your needs? Don't worry – there are plenty of other AI-powered solutions you can check out.
Some of the best Wordhero alternatives include:
Jasper AI: Jasper AI is the best Wordhero alternative. It's a little more expensive than Wordhero, but it comes with plenty of useful features to help you create content faster and easier. You can use this software to create blog posts, articles, guest posts, and even social media updates.
Writesonic AI: Writesonic AI is another great option to consider. It comes with powerful writing tools including a one-click article writer and article wizard for fast article generation.
Longhshot AI: Longhshot AI is another great alternative to Wordhero. It's a great research tool to generate SEO-optimized articles. From keyword research to generating subheadlines and writing content, Longshot has some unique features to generate long SEO-optimized articles.
CopyAI: CopyAI is also a good alternative to Wordhero. It is best for copywriting and creating marketing copy, and it has writing tools to write blog posts, emails, and social media content.
Wordhero AI Conclusion: Is It Worth The Money?
In conclusion, WordHero AI Writer is an advanced artificial intelligence platform that makes writing content easier and faster than ever. It offers writers a comprehensive suite of tools to help them write better and more efficiently, including a suggestion engine for finding the right words and phrases, automated spelling and grammar corrections, and AI-based editing capabilities. The platform is easy to use but also flexible enough to be adopted by experienced writers.
All in all, I think it's a smart investment for any writer. WordHero AI Writer Pricing and Plans are very affordable. And the lifetime deal price is a great investment if you want to pay one-time and avoid the monthly payments. I highly recommend that you try Wordhero as it offers high-quality content, many great features, and an affordable price.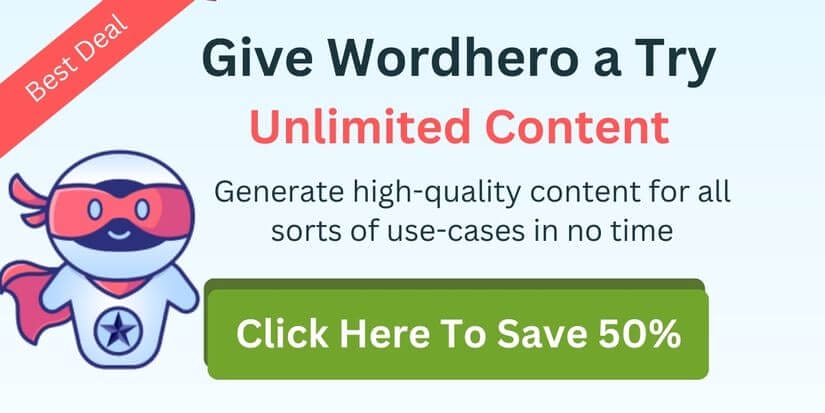 Wordhero FAQs:
I hope that you enjoyed reading this Wordhero AI review. Have you tried Wordhero? and did you like it? Let me know what you think in the comments.