Update 2017: Before you read my review, please note that i originally wrote this review back in May,2013.
At that time, Altushost was a toddler hosting company, and as a small company who is trying to run a business they had many pitfalls and problems. I know that running a successful hosting business takes alot of work and dedication so i'm not here to judge them. My review is not intended to make Altushost look bad (i have nothing against them).
This review is only intended to share my personal experience with Altushost back in 2013. It is also intended to help you learn from my mistakes and teach you how detecting crucial problems early with your hosting can save you from big troubles going down the road.
However, i must say that things have changed alot during the past years with Altushost. They have managed to fix many problems and improve their service.
I have not used Altushost since 2013, so i can neither recommend nor discourage using their service. I will leave the discussion open for everyone to comment and share their experience.

If you have recently tried Altushost, please leave a comment below and share your experience so that everyone can benefit from it.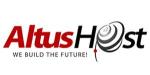 In my Altushost review, i share with you my experience with their hosting, servers, Security and customer support back in May, 2013
Altushost is a European hosting company, located in Amsterdam, Netherlands.
It was my first time to try a Non U.s based hosting company to host one of my websites, Infact not all the non U.s hosting companies are bad as it depends on the company itself and its service, some hosting companies take their business in a serious way, some don't.
I also had a bad experience with a U.s based hosting providers before so you should always do your own research before getting your hosting specially for those cheap hosting providers. Cheap is good for your money but in most cases not good for your business.
My Altushost Experience
When i came across Altushost, i saw some good and bad reviews. I always like to test everything for myself so  i decided to give it a try and i ordered the 3 months hosting package to host one of my websites to test things out.
The First very bad thing i noticed is their poor billing system, i placed my order and their website didn't ask for my credit/visa or any other payment method!. It said that my order was placed, and it took me a while to figure out how i will pay for my order.
1. Customer Support
i contacted their live support and i must say they are the worst customer live support i've ever seen. I was writing to their support operator saying that: I've placed my order and i need to know how to pay for it! he was taking too long to reply back and his answers didn't make any sense. Guess what, he didn't know how i can pay for my order ! he ended the chat saying i should open a support ticket.
I opened a ticket and finally after having them look into it, i paid using Payza (which is pretty similar to Paypal) and i got my website live and running. This was just the beginning, their live support are useless and 90% of time they will tell you to open a ticket to solve your issue which results in wasting alot of your time.
2. Server Issues
During the 2 months period, my websites went offline once so i contacted their live customer support again, and he seems to be very busy to reply back to me. At the end, he was trying to convince me that my website is showing offline only in my browser and after a bit of time my website came back to live.
That's not all, Have you ever imagined to lose all your website files? I have experienced that with Altushost which can be one main reason to make this the worst hosting provider i've ever seen. Their Servers aren't secure or backed up as supposed to be, so you can expect to lose all of your website files without a warning.  Imagine if you don't have a site backup, that could be your worst nightmare.
Their servers have been messed up, and I've discovered that my website files have been deleted, so i contacted their live support and ofcourse, they couldn't do anything about it. Luckily i always auto backup all my websites so i was able to restore the files myself without losing my work or any of my recent changes.  That is one main reason to always backup your website to save your files from getting lost or hacked. I use backup buddy to schedule automated backups for all my websites and i highly recommend it.
Here's my last chat with their customer operator: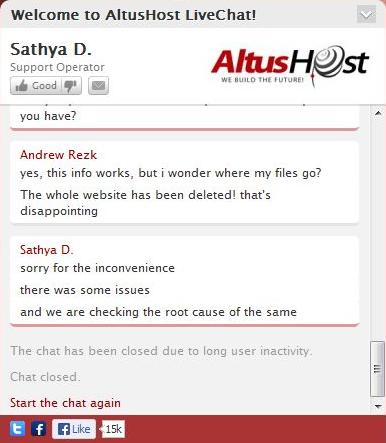 3. Security
Altushost servers don't provide the required security for a safe customer experience, their servers had some security holes. My google account has sent me over 5 security notifications for suspicious sign in attempts, all coming from Altushost IP addresses.
Update:
I have been receiving many emails from Altushost that include: a request to remove this review, offering 6 months of free hosting to try their service again, and another email from Mr. Nikola Tanaskovic (Altushost Chief Operating Officer) with an explanation of what his company has been through in the past, the improvements they have made and some links to prove that his company is legit and serious about running a hosting business.
He also commented on this thread and attached some proof, so inorder to keep things fair, you may want to check his comment below before you decide whether or not to use Altushost service.
As a reply to all Altushost emails, I must clarify 3 things:
My review only reflect my personal experience, i welcome all comments & discussions on this thread.
I have nothing against Altushost or the guys behind it (nothing personal here).
All my reviews are unbiased and i will Not change my words to get a free hosting or whatever.
I always like to keep things straight, I understand that Altushost may have gone through tough time in the past, including hack attempts and now, they may have improved their hosting service and support. That doesn't change the fact that i've had a very bad experience with them back in 2013, but it also shouldn't discourage anyone who wants to try out their service for themselves.
Generally, the main goal of this review is to provide my readers with my real experience nothing more or less. At the end of the day, the decision is yours whether you want to give them a try or not.
My final word for Mr. Nikola Tanaskovic:
If you continue to improve Altushost service (as you explained in your email) and you are really providing your customers with what they deserve, you don't have to worry about my post or negative comments. Keep improving things and taking care of your customers. I wish you all the best in your business and i have nothing against you.
Conclusion:
Altushost has changed alot since 2013, i can't recommend or discourage you from using their service simply because the changes they have made over the years may have changed the way they take care of their customers. Also, every business has its own pitfalls especially at the early stages, so i'm not here to jugde them.
I'd like to keep this discussion open to everyone. If you have recently tried Altushost or if you want to share your review, Please leave your comment below so that everyone can benefit from it.
Final thoughts: After testing many hosting providers outthere, i must say that no one will care about your website or your business as much as you do, so always try to learn how to keep your website safe and be prepared to solve problems yourself without relying on customer support.
Ofcourse, choosing a reliable hosting company with good support can help you cut 90% of the headache, that's why i recommend you always go for the reliable hosting company, Not the cheapest one.
Most hosting providers have a 30-Day Money Back Guarantee, so you can test their service before you decide to continue your hosting service with them. Although 30 days isn't a long time to test everything but it is still good.
If you are searching for a safe reliable hosting provider, i recommend using hostgator,. I've never had any problem with them, their support and service are great. Click here and use the coupon code: AndrewRezk to Get your hosting for Only 0.01 for the first month.
Another great hosting that i personally use and recommend is Siteground, this is where i host most of my websites. They provide a top-notch hosting, security and backups on their hosting plans, you can't go wrong with them. They even have a malware scan tool that scan your files and notifies you if there is a problem. If you are looking to get the best hosting for your money, Siteground is my best recommendation. However, if you're looking for a cheap yet great hosting then go with hostgator.