In my review, I'll try to cover all the main points of why you should back up your website, why regular Backups are crucial for any website or blog, and why I have chosen the backup buddy plugin for my websites over all other backup alternatives.
What is the Backup buddy Plugin?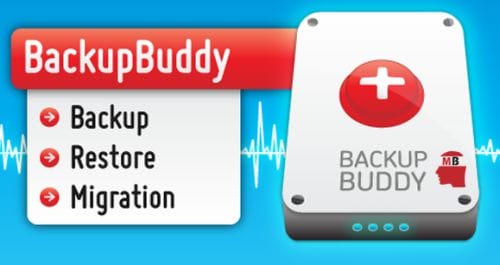 Backup buddy is one of the most popular WordPress plugins that allow you to easily backup, migrate, and restore your WordPress site. Backup buddy has many great features like local Backup, Remote destinations Backups, Scheduled backups, Restore backups, Email notifications, and more.
Backup buddy allows you to backup all your WordPress site files easily with few clicks, you can choose whether to do database backups of full website backups. You can manually create backups at any time you want and also you can schedule backups to take place hourly, daily, weekly, or monthly. Not only that but you can set the backups to be automatically stored or sent to any remote destination like Amazon S3, Dropbox, local directory, Rackspace, FTP, or even to your email inbox.
Storing backups on remote destinations away from your website local server is a great way to secure your content, you should never rely on your localhost only to store your backups, there are many plugins that create local backups and I'll explain why you shouldn't do that in a moment. First, let's discuss why you should backup your website.
Why Backup Your Website?
Well, I'll explain briefly my story when I first launched my first WordPress site in 2010, it was a simple WordPress site with around 10 blog posts, but I have put a lot of time and effort to create that site. I woke up one day and my website was gone, my homepage was redirected to show an ugly message saying " This website was hacked", then I start receiving notifications emails from my hosting company with some malicious pages URLs that have been injected into my website folders. It was a nightmare.
I tried to solve that by deleting all the malicious URLs detected by my hosting, I also changed my user and password. After messing with some files here and there, I was able to make my website display as normal. However, that didn't solve the main problem, and later my website was hacked for the 2nd time, at that time I was really mad and didn't know what to do. My hosting didn't have the solution either, normally what they do is provide you with some tips and advice to secure your website, but they won't be able to detect where are the security holes or damaged files in your account. So I've solved this on my own and again I took a long time trying to remove all the suspected files on my site and changing my login details. That time I've made a backup of my site (I wish I could have done that earlier).
But it didn't take long before my website got hacked for the 3rd time and I was about to give up on my blog.
I realized earlier, that even if I have restored my website using the backup I've created, my website will be still vulnerable to hacking attempts. Why? Because that backup was created after my website has been hacked so it was already too late. That backup had those security holes and malicious codes included, so whenever I'd try to restore my website, it would have been hacked over and over again. Can you see how many headaches this can be?!
To cut the story short, the only way I've found around that was to start my website from scratch. For a small blog like mine at that time, it wasn't a big issue but imagine if this happened for a blog with over +500 or 10,000 posts and years worth of content. It won't be cool right?
I don't want to scare you, as not all WordPress sites are getting hacked, in fact, WordPress is a strong platform, it's used by millions of bloggers and it's getting even better. But we all do mistakes, and any small change you do to your website content (adding a free plugin or theme) might make your website vulnerable and increase the risk of it being attacked in the future, so why not be prepared!
Now, you understand what I mean, and why backing up your website is crucial for keeping your website content safe.
Why Remote Backups are better than local Backups?
This is another question you should keep in mind, there are many free plugins that store backups in a local folder/directory inside your WordPress content folder, this isn't bad but in case your website got messed up, hacked or if you want to migrate to another host, It will be more convenient to store your backups on a remote destination to keep them safe, that is just another reason why I like to use Backup buddy.
Backup buddy Features:
Once you've installed Backup buddy on your WordPress site as normal, you will need to activate your license in order to receive automatic updates and support for the plugin. And you will be ready to create your first backup.
Creating a Backup:
Once you've installed Backup buddy on your WordPress site as normal, you will need to activate your license in order to receive automatic updates and support for the plugin. And you will be ready to create your first backup. You can choose whether to create only a database backup or a full website backup.
Remote Destinations:
Backup buddy supports many remote destinations such as Amazon S3, Dropbox, email, FTP, local directory, and Rackspace which you may transfer backups to. You may manually send backups to these locations or automatically have them sent for scheduled backups. In addition to viewing files, you may copy remote backups to your server, and delete files. As a backup buddy customer, you will also get 1 GB of free storage to our own Backup Buddy Stash cloud destination.
Include or Exclude Files
Backup buddy allows you to choose only the files and directories you want to backup and exclude any others files.
Scheduled Backups
You can easily schedule backups to be created automatically for your website each day, week, month ..etc., and have those backups been sent automatically to any of the remote or local destinations mentioned above.
Restore or Migrate Site
With backup buddy you can restore your website on the same server or you can migrate your site to a new hosting server (on another domain or sub-domain). The process is simple:
you download a small file called importbuddy.php (provided to you with a backup buddy)
Upload importbuddy.php & the downloaded backup zip file to the destination server directory where you want your site restored.
Navigate to the uploaded importbuddy.php URL in your web browser (ie http://your.com/importbuddy.php).
Follow the on-screen directions until the restore/migration is complete.
Malware Scan
Another extra feature of Backupbuddy is you can scan all your website for malware, and display the results along with some other info like your website sever details, links, javascript, and blacklisting on search engines.
Auto Updates and Support
With your Purchase of backup buddy, you get unlimited free plugin updates, support + One year of iThemes forum support.
New Feature in Backup buddy 6.0:

Backup Deployment
Backup Deployment is a new feature in Backup buddy 6.0 that allows you to easily pull or push any changes from one WordPress site to another in a few clicks. With that feature, you can do any changes you want on a Test WordPress site and Apply that changes automatically to your Live WordPress site without having to develop or test the changes on your live site. You also have the option to transfer the database (all tables, some, or none), plugins, theme, and/or media files. Best of all, your live site will have no downtime, as you no longer have to restore backups each time you want to test or apply changes.
Backup buddy Plugin Vs. Free Backup Plugins
Backup buddy is a premium plugin, while there are many free WordPress plugins that can backup your website, so why use Backup buddy? Well, I've tried many free backup plugins like XCloner, BackWPUp, Wp-DB-backup, Duplicator ..etc. I always had some concerns about these plugins.
Here's exactly why I've switched to Backup buddy:
I've tested the scheduled backups feature in some free plugins, it has worked for some time then it has stopped and I started getting error notifications for uncompleted backups. I attempted to reschedule backups but that didn't fix the issue.
Not all free backup plugins allow you to send backups to remote destinations, some will do but usually, you will experience the problem explained in point 1. (not reliable)
Backup buddy is much more convenient to create & schedule backups, while with some other plugins you need to spend some time testing your backups and make sure that all your site files were successfully included in the backup, and there are no missing files.
Some free backup plugins like Xcloner can merge the old created backups with the new backups, which makes the size of the new backups double & triple with time, so make sure to change settings to prevent that.
Free backup plugins usually lack good support and updates, they may work for some time but they aren't reliable for the long term. Although the plugins are free, some will require you to pay for support.
With Backup Buddy, you get all that you need to easily backup, store, and migrate your website, and you get unlimited free plugin updates, support, and One year of iThemes forum support. And for the one-time payment of $60, I think it's worth it.
Backup buddy 25% Discount
Backup buddy's regular price is $80 for 2 sites, $100 for 10 sites, or $150 for unlimited sites. But you can get a 25% discount. Click here and enter the coupon code: ITPAL25
Conclusion:
As I explained in this review, Backing up your website is crucial if you really care about your blog and you don't want to lose all your hard work overnight. There are many ways to backup your website, if you have a WordPress site then the easiest way is to use a WordPress plugin that can automate the process of creating and storing backups for you, whether you choose a free or a premium plugin like Backup buddy, the main point here is to go and backup your website now. I recommend a backup buddy because I always like to keep things easy and it has all that I need. Click here to get backup buddy.
Backup buddy Review: Wrap Up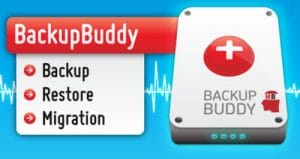 Backup buddy is a WordPress plugin that allows you to backup, migrate, and restore your WordPress site. Backup buddy has many great features like local Backup, Remote destinations Backups, Scheduled backups, Restore backups, Email notifications, and much more.
Price: 80
Price Currency: $
Operating System: Windows and Mac OSX
Application Category: Backup