What is Google Sniper?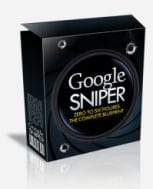 Google Sniper is an online training course by George Brown, that claims to get you a better ranking for your websites, the whole idea of this course is to show you how to build so-called "google sniper" websites that can easily get high ranking on the 1st page of google which in fact is NOT easy these days as it seems to be inside this course.
If you are here to learn the truth about google sniper, whether you should buy or not? Whether it worth the price or not? then, You have come to the right place, I do my research and reviews ethically here and I'll tell you upfront that you shouldn't buy google sniper, I know that you may have seen many internet marketers promoting and preaching google sniper and you may have heard how great this course is, so I'll tell you my reasons and I'll leave the decision for you whether to buy it or not.
Here's why I don't recommend buying google sniper:
Google sniper teaches outdated SEO methods and lessons.
The whole process of ranking a website is Not easy as George promises.
Google sniper methods may have worked 1 or 2 years ago, and they don't work anymore.
You can get a lot better training and value with some other training courses (even for a lower price).
Google Sniper Facts:
– Google Sniper is a 5 years old course,(at the time you are reading this review it's probably 7 years old or more).
Back in the day, It has been of the best-selling products on Clickbank but that isn't the case anymore. When I judge a product, I don't care how old this product is or how many copies have been sold. it's all about what's inside this course, and what it can do for you. Right?
– Google Sniper is mainly a Video training membership site, there are some PDF documents you can download to your computer but the website itself is mainly based on videos.  After going through these videos myself, I must clarify that, not all of the videos are bad or worthless because there are some good videos that contain some helpful information. If yoy are a total newbie Newbies, you would find some useful content inside these videos. However, you are getting outdated SEO training and you could put your money somewhere else and get a better training with some other programs.
Inside Google Sniper Members Area:
Here is exactly what you get inside "Google Sniper" course:
-Getting Started
-Google Sniper 2.0
-Further Training
-Empire Module
-Rolodex
-Sniper X
-Support
Google Sniper 2.0
In this section, you get the google sniper manual (around 140 Pages), This big introduction manual should give you in-depth overview of the google sniper Sniping System and a much clearer understanding of what they're trying to accomplish with this course.
You also get the Google Sniper 2.0 Video Modules which consists of 7 Modules:
Module 1: How to pick a winning product to promote
Module 2: Finding keyword that meets the sniper criteria
Module 3: Creating the foundation of your sniper site
Module 4: Secrets of 20% conversion rate (How to make more money by preselling)
Module 5: The Fastest way to Cloak Affiliate links
Module 6: How to create your site (technical stuff)
Module 7: How to get ranked and gain authority in record time (Outdated methods)
Most of the lessons and methods provided in these Modules are outdated, it was working two years ago but after Google's latest updates, these methods don't have that much weight in rankings anymore, the main idea of this section is to teach you how to build a 2 or 3 pages website around the main keyword which is no longer effective after Google's Panda and Penguin update.
Further Training
In this section, you get 8 Videos that go through some SEO and backlinking strategies (Old methods) in addition to some CPA training.
Video 1: Preselling – MORE Tips On Maximizing Your Sniper Sites Conversion Rate
Video 2: What Can Go Wrong With Your Sniper Sites And How To Fix It… FAST
Video 3: SEO – The Easiest Ways To Massively Boost Your Sniper Sites Rankings In The Search Engines
Video 4: SEO – Special Guest & Full Time Google Sniper Alex Shares His Techniques For Guaranteed #1 Rankings
Video 5: How To SUPERCHARGE Your Sites Using Social Media (And Without Spending Hours A Day On Twitter!)
Video 6: What Products Have Converted Best For Me On Clickbank
Video 8: How To Choose A CPA Offer To Promote
Empire Module
The main idea of this Google Sniper member's section is to teach you how to outsource your hard work in all the previous videos to someone else to do the work for you in return for some bucks. In my opinion, Outsourcing is very helpful but if you outsource the wrong methods….guess what? you're wasting your money and not making any money in return. Since most of the google sniper methods are outdated or no longer effective you'll be burning out your money if you decided to outsource what they teach you inside this course.
Here are the videos you get inside this section:
Sniper Outsourcing Blueprint – Part 1
Sniper Outsourcing Blueprint – Part 2
Sniper Outsourcing Blueprint – Part 3
Sniper Outsourcing Blueprint – Part 4
Sniper Outsourcing Blueprint – Part 5
BONUS VIDEO: Ideas for Business Development
Rolodex
This is Google Sniper's Resources area where George provides you with different resources, including web hosting, Seo, affiliate networks, and some outsourcing hubs.
Sniper X
In this section, there are 20 Videos where George goes through some other internet marketing aspects like Niche research, social media, email marketing… etc. the videos provide value to the buyer, however, they aren't well recorded and organized. There is also some Q&A Webinars included in this section but George didn't provide you with titles or descriptions for these webinars. so I presume these are just random Q&A for google sniper members. (19 webinars included)
My Conclusion:
There are many different opinions when it comes to google sniper, this product that has been online for a while. if you do some search you'll find many internet marketers that are promoting google sniper and consider it useful. some other (like me) won't recommend you go after this product. So In order to end this hassle, I will tell you that Google sniper was successful when it first launched 4 years ago. at this time people were heavily promoting it and recommending it. But Today SEO game wasn't like 2 years ago. I always recommend you stay away from outdated SEO products that promise high rankings.
Google sniper is $47/month and for the price, there are many programs out there that will provide you with a better training, and more useful content.
Have you purchased Google sniper course? Has it helped you acquire better rankings?
Share your opinion and experience below in the comment section.