In this Getresponse Review, I will share my honest experience using the Getresponse software for over 8 years, highlight Getresponse's Pros & Cons, and compare it to its main competitors to help you decide if it is the right email marketing software for you. Also, now you can try Getresponse yourself for free with the new free-forever plan which lets you send unlimited newsletters to up to 500 contacts (more on the different plans, pricing, and features later).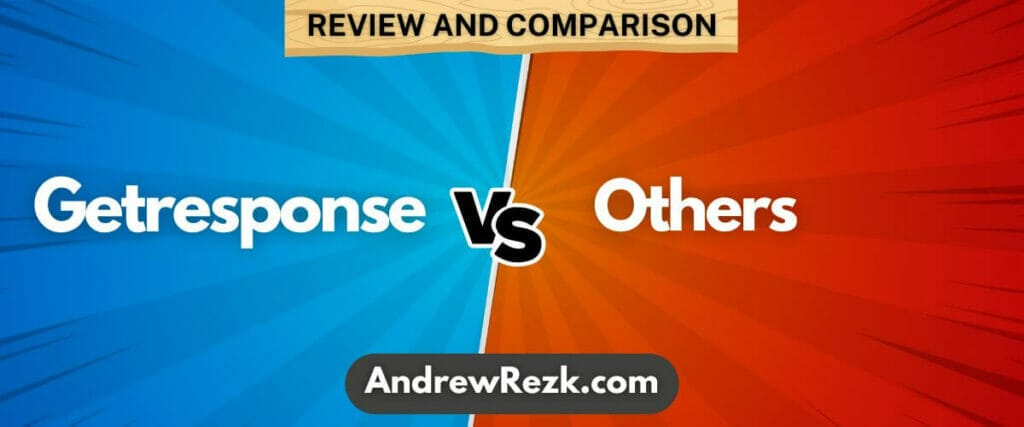 Using an email marketing platform like Getresponse is a great way to market your business online. It offers a wide range of essentials and features that your business needs to get the attention it deserves and help grow your customer base. It's considered to be an all-in-one email marketing and marketing automation platform. So, let's break down how it all works and what Getresponse can really do for you.
Getresponse Review
Ease of use and user-friendliness

Getresponse has a great email deliverability rate

All-in-one email marketing automation platform with lots of features

Drag & Drop Email builder (WYSIWYG email editor)

Big library of Professional Email Templates (over 166 templates)

Drag & Drop builder to create beautiful web forms and pop-ups

Ability to Send Email Newsletters, Autoresponders, and RSS emails

Ability to Send SMS messages and automate them in workflows

Drag & Drop builder to create Landing pages, Marketing funnels, and Websites

Powerful Email marketing automation with flexible workflows

Trigger Drip Email Campaigns using one or multiple events or actions

Email calendar to create and manage email sequences (autoresponders)

Email marketing A/B testing and automatically choosing a winner

Customizable Dashboard Widgets to track activity for contacts, lists, and emails

Support for many App integrations including WordPress, Magento, Clickbank, Amazon, and more

Email Analytics and Reports with detailed stats and graphs

Getresponse offers step-by-step video tutorials and documentation

Ability to white label and use a custom domain name for Getresponse's dashboard (backend)

Dedicated IP option for sending emails (MAX plans)

24/7 Customer Support via live chat and phone (MAX plans)

Affordable and Flexible pricing (Tiered Pricing / Pay as You Grow)
What Is Getresponse?
Getresponse is a complete marketing platform designed to help you grow your business by helping you communicate with clients and potential contacts through email, SMS, live chat, web push notifications, pop-ups, landing pages, and sales funnels. As a result, you'll be able to create and maintain important relationships that can help your business grow into a successful venture.
Getresponse is a great business growth tool, better than most of its competitors (I will explain why later in this review). It can help you reach more people by providing you with vital marketing help. Not only will it help you build a bigger customer base, but it will also help you maintain the created connections for years to come.
Let's get into specifics of how Getresponse can truly help your business and what makes it stand out from similar companies that promise the same outcome.

What Can You Do with Getresponse?
With Getresponse, you can:
Let's start our Getresponse review by explaining exactly what it is for those who are interested but unsure. If you have a business and are looking for effective communications to help you grow and maintain your customer base, then Getresponse is exactly what you need.
So, let's get into what Getresponse can do for your business. First, Getresponse gives you the ability to import all of your customer contacts to the website. This creates a single database with all of your contacts so that you can reach out to your entire customer base easily.
However, Getresponse goes beyond just collecting your customer information. With this information, Getresponse helps you create emails to send to your customers by providing different templates and ideas for you. They also provide analytics to show you what your customers are clicking on and forwarding to their friends and family.
Getresponse can also help you create automated responses for your customers who contact you. This can help minimize your work of keeping up with emails and frequently asked questions by automating the process to ensure the customer receives timely responses without relying on you directly.
Overall, Getresponse can truly help your business succeed by helping you manage one of the most difficult parts of growing your business. In short, it is a great option for anyone who needs to foster better customer communication.
How to get started with Getresponse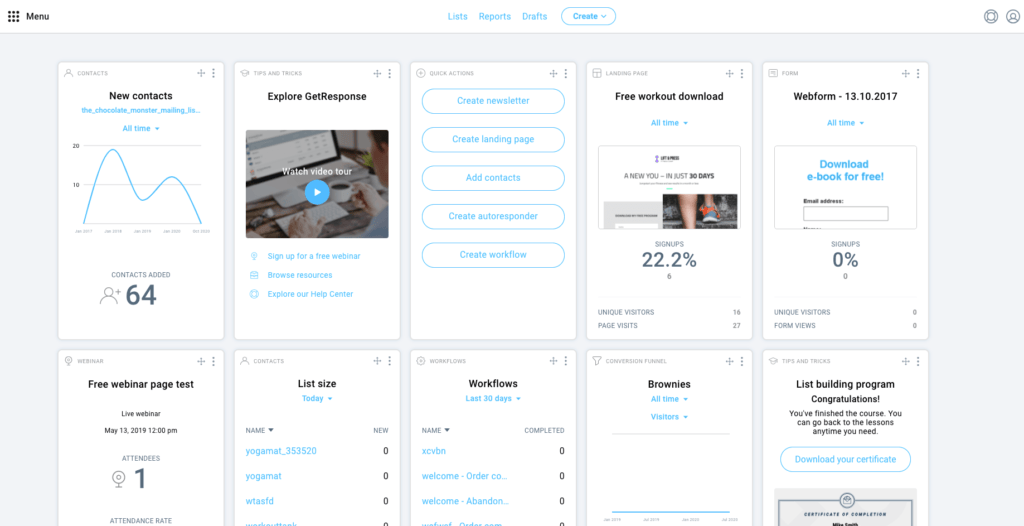 To learn more, check this guide on how to get started with Getresponse in 10 minutes.
Is Getresponse the Right Tool for Your Business?
Now that I covered what Getresponse is, let's talk about whether or not it is the right tool for your business. Considering the types of services that Getresponse offers, you might be quick to assume that their help is geared toward startups. However, this couldn't be further from the truth.
Getresponse is the right tool for many businesses, as it can help them build and maintain a better relationship with their customer base. Whether your business is large or small, there is something that Getresponse can offer you.
During my 8 years of using Getresponse, I have had great email deliverability and open rates. It's very user-friendly and offers more unique features. For the price, I think it's better than most if its competitors as I've tried other similar platforms and I still prefer to use Getresponse to this day.

Over the years, I see that they have noticeably improved their platform and added more useful features. Today, Getresponse is not just an email marketing platform, they have tools for building landing pages, pop-ups, live webinars, sales funnels, and even complete websites, so technically you can use Getresponse to replace several marketing tools. Plus, Getresponse can easily integrate with your website and sync data (with no third-party tool), no matter if you are using WordPress, Woocommerce, Magento, Shopify, or others. This cuts off additional costs and help you market to your audience effectively.

Andrew Rezk – AndrewRezk.com
As expected, there are some pros and cons to signing up for Getresponse, depending on the size of your business and what you need. Let's discuss them and help you better determine if it is the right choice for you.
Getresponse Pros and Cons:
Pros
Getresponse is easy to use and user-friendly
Complete marketing platform, you can automate a lot of your email marketing tasks with Getresponse
Excellent deliverability rates with a dedicated IP option
Offers a lot of features and app integrations (including WordPress, Magento, Clickbank, Amazon, and more)
Flexible pricing (Tiered Pricing / Pay as You Grow)
Custom Features and Affordable Pricing
Easy Emails, Forms, and Pop-ups builder
An intuitive Website, Landing page, and Sales funnel builder
Send Newsletters, Autoresponder, and RSS emails 
Big library of Professional Email Templates (over 166)
Customizable Dashboard Widgets
Good Analytics and Reports
Good video tutorials and helpful documentation
Great Customer Support (24/7 email and live chat support)
New Free-Forever Plan and Free Trial of Paid Plans
Cons
No phone support except for the MAX plan
Some features are only available on the higher-priced plans
SMS marketing is only available on the MAX plan
Dedicated IP and domain are only available on the MAX plan
Contacts that exist on multiple lists will count multiple times
Analytics and Reporting could be more robust
Getresponse Features Review
Getresponse offers a wide range of features and powerful tools for managing email marketing campaigns. These include email marketing automation, autoresponders, newsletters, landing pages, websites builder, A/B testing, and detailed reporting. They also have a strong deliverability rate and great customer support. Let's break down all the email marketing features in Getresponse and see how everything works.
Let's start by discussing how Getresponse can help you manage your contacts more efficiently and get communications out more efficiently. Getresponse gives you the resources to compile a list of subscribers to help you easily keep track of who is on your list and have their information ready should you need it.
You can add to and manage your list as you see fit. There is also a search feature that allows you to find specific people on your list quickly and efficiently should you need to reach out to them. Their website also allows you to import your contacts if you don't want to add them manually. This is especially important for companies with a large client list.
Once you have imported all of your contacts, Getresponse will do the rest for you. Once a person subscribes to your mailing list, Getresponse will automatically add them to your list. So, you don't need to edit your list by adding more customers as they come along. They take care of that for you.
How to add and manage your contacts in Getresponse
Managing contacts in Getresponse is easy. To view your contacts, simply click on 'Contacts' > 'Lists' in the main menu. This will show all your lists of contacts. You will also see all your segments (if you created any segments, which is easy to do).
If this is your first time using Getresponse and you don't have any contacts added yet, you can add all your contact in a few clicks. To add new contacts in Getresponse, simply click on the 'Add Contacts' button and choose how you want to add them. There are three ways to add your contacts in Getresponse:
Add contacts by uploading a file (Getresponse supports the following file types: XLS up to 10 MB and CSV, TXT, VCF, XLSX, and ODS up to 50 MB).
Import contacts from another email marketing solution (like Activecampaign or Aweber) or service (like Google Docs or Salesforce).
Add contacts manually, one by one, if you prefer.
As you can see Getresponse offers different ways of adding contacts, so even if you have lists of hundreds or thousands of contacts with one or more platforms and you want to migrate all your contacts to Getresponse, you can do that within a few clicks. Getresponse also lets you assign custom fields to your imported contacts, so for example you can add more fields to your contacts like Birthdate, Address, City, Country, State, Postal Code, Gender, Phone, HTTP Referrer, Comments, and more. Additionally, you can create more new custom fields and assign them to your contacts.
How to import contact lists to and from Getresponse
Custom Fields
Custom fields are pre-defined or user-defined fields that you can assign to your contacts in Getresponse. As mentioned earlier this can be useful when you are importing your contacts to Getresponse as you can easily assign and match those fields to your existing contact fields so you don't lose any of your valuable contacts information after migrating to Getresponse. Examples of custom fields are birthdates, phone numbers, addresses, genders, comments, or any other piece of information that you want to add.
Contact fields are also a great way if you want to search your contacts or target a specific segment of your contacts to send out a marketing email or to set up an automated marketing automation workflow as we will discuss later in this Getresponse automation review.
Contacts Search and Advanced Search
We often need to search and filter our lists of contacts for many reasons, maybe we want to look for one or more customers who purchased a certain product or maybe we want to create a new segment of people who opened a certain email. In all cases, having a good search tool in your email marketing platform is a must.
One of the great features of Getresponse is its search capabilities, especially its Advanced Search. This is not common in other tools and I will explain why this is important below. Getresponse has two ways to search contacts (Fast Search and Advanced Search).
Fast Search: this allows you to search contacts fast by name or email. You simply type in the name or email of a contact you want to search for and Getresponse will pull up all the lists with that contact. This is a fast way to search contacts, nothing is special about it. However, the advanced search is where Getresponse shines.
Advanced Search: this allows you to search contacts using any combination of conditions and filters. You can filter contacts using any combination of their contact details, actions, geolocation, scoring, tags, consent fields, e-commerce actions, conversion funnels, events, and more. This is a very powerful feature because you can dig deep into all your lists and find contacts that you want to target.
For example, you can find contacts who have opened your last email, clicked on your email link, have a specific tag assigned, and have purchased a specific product at least 2 times in the past. Not only that, you can even target those who are only located in New York and have subscribed to a specific list on your website.
What is so useful about the Getresponse Advanced Search?
You might be wondering why the Getresponse Advanced search is useful, well. The advanced search is useful not just for searching and filtering contacts, but also for creating segments and applying actions to those contacts.
For example, the advanced search can be used to create new segments, move contacts to another list, add custom fields, add tags, or send a message. There are many benefits of using the advanced search in Getresponse and these are just a few examples of why I think it can help you manage, organize, and communicate with your contacts in a very effective way.
List Hygiene
One major benefit of using Getresponse is that they help you easily keep your subscriber lists clean and polished. They also have some helpful tips and tricks for you to follow to keep your list fresh and ensure that you are reaching your target audience and avoiding spam lists.
First, Getresponse does not pull or allow you to pull random emails. They require you to send permission-based emails. This means that the recipient must have agreed to receive emails from your business. So, this should help with sending meaningful emails to those who want them rather than sending out random emails hoping to get a random person's attention.
The List hygiene feature can be found in Getresponse under 'Contacts' > 'List Hygiene'. This is where you can take care of your list's hygiene. Get rid of duplicate contacts and remove the inactive ones. You can also create blocklisting rules to automate this process.
The List Hygiene feature in Getresponse consists of two tools, 'Delete Contacts' and Blocklist':
Delete contacts: You can immediately delete specific contacts by hand. Or, you can create a rule to delete all contacts when they unsubscribe or are deleted from other lists.
Blocklist: This tool can block contacts globally in your Getresponse account. You can: Block a single email address, Block multiple email addresses, Block entire domains, Prevent specific people from subscribing to your lists (global blocklist), and Prevent existing contacts from receiving all your messages.
List hygiene is vital for ensuring that you do not send duplicate emails to the same email address, even if they sign up for emails multiple times. This is part of what the Getresponse system does best. It does not allow the same email address to appear on your list more than once, so you don't send the same person multiple duplicate messages.
Hygiene also means removing inactive or non-responsive emails from your list. This can help you keep a more true subscriber number and not inundate subscribers with emails that do not interest them. Essentially, you want to make sure that your customers receive the emails that they want. Sending emails to inactive or uninterested subscribers is a waste of time.
Getresponse also has an algorithm that detects emails and domains that tend to be associated with spam. So, they will flag any emails that connect with this behavior for you. List hygiene is vital for ensuring that the audience you reach is interested in your product and actively wants to interact with emails, coupons, and links you send them.
Email Segmentation (Getresponse Segments)
Another way that Getresponse can help you manage your contacts is through segments. Getresponse Segments are groups of subscribers that you can create. You can use many different filters for segments. They allow you to reach a target audience and send specific emails to those clients.
You can categorize segments based on any information that you have about the subscriber. For example, you can add segments based on age, product preferences, contact preferences, and many other options depending on your target audience. This is a great way to personalize emails for individuals and increase the chance that the consumer interacts with them.
How to use dynamic segments
Suppression Lists
Suppression lists are just as important as segments when it comes to contacting your subscribers. This is how you exclude emails from your correspondence. You can do this based on certain characteristics like segments, but you would commonly do this to ensure that people who opt out of communications do not receive them.
Suppression lists are vital in customer communications. Imagine opting out of receiving promotional emails from a company just for them to ignore those requests and continue sending emails. This would leave a bad impression on the company for sure. So, suppression lists make sure that doesn't happen to your customers.
Tags
Tags are another great way to manage your contacts within Getresponse. They allow you to "tag" your contacts with specific categories as a way to manage the content they receive. This is similar to segments, but it does not require a list. Rather, you can simply add tags to certain communications, and those communications will go to everyone associated with that tag.
Your contact will not be able to see the tags you apply to them, but it can certainly help you manage these communications more effectively. Some examples of tags you can place on your contacts include "customer" for those who have already made purchases on your website or "prospect" which can indicate that they have added to their cart but not purchased.
Use these tags to your advantage to help your customers receive the communications they will most benefit from rather than sending generic communications to everyone.
How to use the Tag action in an automation workflow
Getresponse Contact tools Review
While the list of contact options is impressive, Getresponse has similar contact settings to other similar companies. There are quite a few examples of features that Getresponse shares with its competitors. One major difference is that most companies charge for these features, while Getresponse remains free for those with smaller client lists.
One major benefit of Getresponse that you don't see with other similar companies is the Advanced Search and List Hygiene features. Getresponse has very flexible search and filters in place. And their List Hygiene tools help you to keep your lists clean, remove unresponsive contacts, block spam contacts and keep your monthly cost lower.
Getresponse takes the time to ensure that your subscribers want to receive communications and engage with your company. This truly sets them apart from their competitors because they charge you based on your number of subscribers. But instead of counting any subscriber that signs up, they are still careful in weeding out spam emails and uninterested parties without counting them toward your total.
So, if you have 500 subscribers and need to upgrade your plan, you will have 500 active subscribers. This shows that Getresponse is not trying to charge you for features that you don't need or a plan you aren't ready for. Again, this shows the company's integrity and how much they want your business to succeed.
2) Autoresponders
Let's dive into one of the best features that Getresponse offers your business, the autoresponder. This is one of the main benefits of Getresponse compared to other marketing companies, and it is available to every price tier except for the free option. It makes for an excellent way to foster communication with customers and encourage them to remain loyal.
The autoresponder feature contacts your customers at certain times to foster communication as they are new to your site. First, you can create a template to welcome new customers to your website. Once someone signs up for your website or newsletter, they will immediately receive an automated welcome email.
You can design these email templates to fit your style and business. Sending out a welcome message can let the customer know they matter to you and help them understand what your company can provide for them. So, use this as a first, friendly communication to open the door for new potential customers who may not be familiar with everything you have to offer.
The next autoresponder you can set up features an offer for potential customers after about a week. So, seven days after the initial welcome message, you can send those potential customers a coupon of some sort to encourage them to purchase from your business.
Not only will this help those who simply signed up actually make a purchase, but it can help those customers who already made purchases purchase again. So, this is something you can set up to happen with no required intervention from you.
Finally, you can set up the last autoresponder to encourage your subscriber to follow you on social media. Social media is a great way to alert your customers of new products and special discounts you may be offering. So, encouraging them to follow your social media accounts can help foster that connection with your customers to keep them aware of your business.
3) Marketing Automation
Next, let's talk about how Getresponse handles automation and what you can expect from them. Automation is a key feature and main selling point of joining Getresponse as it can make managing your business easier. So, let's talk more in-depth about their marketing automation features and how they can help your business.
Getresponse Marketing Automation
While I already discussed the autoresponder feature above, marketing automation is an entirely different process that allows you to reach your subscribers. Rather than welcoming your new subscribers and later encouraging them to make purchases, marketing automation can help you set up promotions to automatically reach your customer base at the right time.
One major example of this automation is holidays. Suppose you plan to send out promotional deals for the holidays. In that case, you can use marketing automation to send coupons and promotion codes to specific subscribers based on what they like or have previously purchased. This is a great way to reach your clients during peak buying time without sending everyone the same email.
You can also use this automation to reward customers who engage with your website or purchase products often. Do this by setting preferences and rewards for each tier you decide on. While this is an automation process, that doesn't mean it has to be impersonal. So, use the information you have to your advantage and set up deals for people who will use them.
How to build Automation workflows in Getresponse
Reaching Customers for Specific Reasons
Automation also allows you to set up ways to reach customers based on their activity. Commonly, you see this happen with order confirmation emails when customers make a purchase. Getresponse can help you set up a customer-friendly template for those emails to confirm their order and offer a shipping timeline.
You can also set up email reminders for customers who place items in their cart but abandon them. This can be a friendly push in the right direction when customers spend time adding items to their cart but don't click that purchase button. Of course, this can happen for many reasons, but a friendly reminder that they did not complete the purchase can help.
While there are many reasons to send automated messages to your subscribers, Getresponse provides templates for each situation. So, you don't have to construct these emails without any help. They have templates for you to use or garner inspiration from as you may need them.
Getresponse Marketing Automation Review
Marketing Automation is where Getresponse really starts to stand out as a leader among its competitors. Many of the automation options are available for people who choose any tier, with few exceptions. So, you don't need to pay top dollar to reap these awesome benefits.
If you're interested in the autoresponder option that I discussed above, that will require you to choose a paid tier of the website, but there are plenty of automation benefits you can choose that don't require payment.
Getresponse automation workflows are very flexible and powerful compared to other marketing automation tools that I have tried. You can use multiple triggers in a single workflow, and you can use actions to move or copy contacts from one workflow to another automatically. This is just one example of things that you may not be able to do with other marketing automation platforms. There are many use cases for automation workflows in Getresponse, the more you use it, the more you like it.
4) Email Marketing
Now that I've covered the automation process, let's go into more detail about the other email marketing tools that Getresponse provides. First of all, Getresponse has many professional pre-designed email templates (around 166 email templates to choose from), plus they have a free Getresponse images library with more than 2,500,000 stock images. On top of that, they have free GIF images powered by GIPHY. So you can find many great images for your next email campaign in one place without ever leaving the GetResponse environment.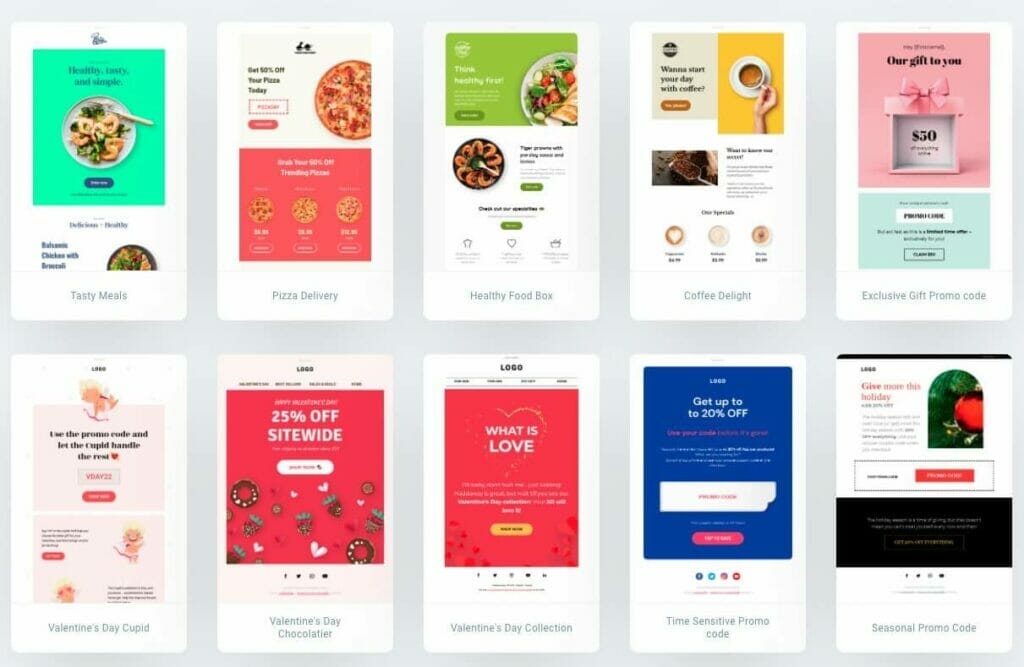 With the help of the pre-designed email templates and Getresponse's huge library of free images, you can literally create your first email campaign within a few minutes, but that's not all they offer. With the Getresponse email marketing tools, you can send Newsletters, create Draft emails, create A/B Testing, and send RSS-to-emails. Let's dive into each of these tools.
Newsletters
One of the best ways to reach out to your subscribers is through newsletters. These are one-time communications you can create and send to people on your list to let them know about special offers. You can also use newsletters to get important information to your customers about changes to your business or website.
How to create and send newsletters in Getresponse
A/B Tests
Going right along with Newsletters are A/B tests. You can perform these tests when sending out newsletters that monitor subscriber reactions to different types of communication. This test has you send out two different newsletters and receive feedback on which one garners more clicks from your subscribers.
These can help you determine the kind of correspondence that does best with your subscribers. It can help you narrow down what kind of newsletters you need to send out in the future to get the most clicks. So, I highly recommend using this test to see how well your subscribers react to different messages.
How to Set Up Email A/B Split Tests in GetResponse
Editing Beyond Templates
While you know that you have access to many different email templates, let's discuss some other ways you can edit your emails to subscribers and personalize those messages. You can feel free to play around with different fonts and text sizes depending on the message you want to convey. You can also add background images for another personal touch.
You can also edit emails beyond just how cool they look to your customers. You can choose the text that makes the preview line for those emails and create a message they all want to see. You can also add your social media to your emails to promote followers on different platforms, and you can integrate promo codes for those who read the emails as well.
Getresponse helps you truly personalize your emails and ensure that your own personal touch is there. So, use all of the editing tools you need to make your emails your own, and save them as you go for future email correspondence.
Getresponse Email Templates (166 templates)
At the time of writing this review, Getresponse comes with 166 email templates to choose from. You are free to alter these templates as you see fit to help get across the message you want to reach your customers, but these templates can help get you started with building proper communication.
With so many templates to choose from, you can ensure that your customers are receiving emails that don't look the same every time you send them. You can also ensure that your emails do not look like every other company's emails, as these many templates can help you stand out from others.
Each of these templates is responsive. This means that the templates will adjust based on how your customer is viewing them. So, they will automatically adjust for mobile, tablet, and desktop viewing. This is just another small feature that can save you a lot of time and energy when dealing with customer communications.
Remember, you are free to build from these templates as well. So, Getresponse is giving you 166 of their best ideas and allowing you to build onto their ideas as you see fit. So, take the time to look through these templates and find the right look for your company.
RSS-To-Email
For people who like to post blogs on their website, this is one of Getresponse's best features. RSS-to-email marketing allows you to alert your subscribers when you post a new blog on your website and guide them right to it.
Use this to promote each individual blog, or you can send out monthly RSS-to-email correspondences to promote each blog post you made that month. If you don't want to inundate your subscribers with new blog post emails, then consider the monthly option. This can draw attention to new posts without sending an email every day that you make a new post.
You can set the monthly email template to include up to 30 blog posts that you made throughout the month. So, that email can point out everything they missed. You can also send certain blogs to certain subscribers based on their preferences for certain topics or what they have viewed previously.
Getresponse Email Marketing Tools Review
Email marketing is the main goal of Getresponse, and it is where the company truly shines. You have automated messages that you can edit and craft into your own idea or templates you can use to fall back on when you don't know where to start.
The A/B tests really stand out as an innovative way to test what type of communication your subscribers prefer. From there, you can adjust your communications accordingly and try other tests as well. Getresponse allows you to do this without needing to alert your subscribers of the test, as it reads their activity without requiring their feedback.
The editing and crafting of emails offered by many other companies are significant but rarely come along for such a low cost. Whether you are a free or paid member, you can make your emails look just as professional, fun, and creative as you want. Overall, this is the main reason that people choose Getresponse, and for a good reason.
5) SMS
If you decide to choose one of the Max plans, then you can start the process of sending SMS messages to your customer list. Not only is this a great way to reach potential customers, but it also provides a helpful alternative for those who may not prefer email communications.
This program costs money for each text message you send out. The cost depends on the country of the recipient, how many recipients there are in total, special characters used, and custom content. Custom content can be unsubscribe options for the recipient, links to your website, or other elements you want to be added to the message.
SMS makes for a great way to reach your customer base in a different way than your competitors. Most companies rely on emails to reach their customer base, but you don't have to do that. Getresponse provides a unique opportunity to reach your customers in a different way.
SMS Pricing
One main concern about sending SMS messages to your subscriber list is that they cost money. Unfortunately, there is no set total for how much an SMS costs, simply because there's a wide array of factors that go into the total cost.
Now, that doesn't mean that Getresponse leaves you guessing until the very end. Once you speak with a representative about sending out SMS messages, you will come up with a plan for how many you want to send and what you want them to say. After that, the representative will work with what you suggested, view your account, and give you an estimated cost.
This can still be a little intimidating for businesses because you will only get an estimate. You will not know the exact final cost until you send the SMS out. So, some people may hesitate to use this option simply because of the estimation process and not knowing the final price until it has already happened.
Monitoring SMS Messages
One way that Getresponse can help you ensure that your SMS messages are making a difference is that they provide feedback. So, once you send out those messages, Getresponse will let you know how many you sent, how many were successfully delivered, and how many subscribers clicked the link provided in the text.
This can help you with future SMS costs as it can help you weed out numbers that never received the message, as these may no longer be working. So, use this information to your advantage to save money on future SMS notifications.
Getresponse SMS Review
Being able to contact your customers through multiple avenues is vital for any successful business. So, the option to send SMS messages is not something that you should overlook. This is not a perfect system as you need to wait for the final total cost until after you send out the messages, meaning you'll need to be careful when budgeting.
Overall, the SMS experience with Getresponse is a good one, but the feedback helps make this process great. So, if you want to get started with SMS contact, make sure you get an estimate first. Then, look carefully at the feedback to see who received the message and whether or not it was worth sending them out to your subscribers.
6) Web Push Notifications
Since we're talking about different ways that you can reach your subscribers, let's talk about web push notifications. If you don't know what these are, web push notifications go out to people using a web or mobile browser that have agreed to receive them. These notifications can remind them of your website or even redirect them if they choose.
The best part about web push notifications is that they work with anyone who agrees with them. So, recipients don't even need to be subscribers to receive them. This can be a great way to get people to come back to your website at a later time without relying on emails or SMS messages.
How to create Web push notifications in Getresponse
Web push notifications aren't just for people online. In fact, if you want to send something out to those who have them active, all you need to do is send it and wait. If the recipients are online, they will get a notification immediately. If not, they will still receive the notification the next time they log onto a browser on whatever device they are using.
Therefore, web push notifications are not as hit or miss as some may believe. In fact, a study in 2021 showed that web push notifications could increase your daily website traffic by about 25% because they remind people to come back to your website when they're already on the internet.
To make these notifications just as effective for your business, they will need to be catchy and make people want to visit your website again. So, you will need to take some time to ensure that your message is well-throughout and effective.
Getresponse Web Push Notifications Review
Web push notifications are another great way of reaching your potential customers and reminding them to come back to your website. This is also a great way to keep them aware of sales and holiday specials without even needing them to subscribe to your email or SMS lists.
Despite these notifications being relatively common, they are quite effective in bringing people back to your website. So, having Getresponse set them up for you and allow you easy access to sending these notifications is essential in getting more eyes on your website and increasing returning customers.
7) Transactional emails
Transactional emails are emails sent in response to actions taken by your customers. As an example, your customers automatically receive an email whenever they create an account, reset their passwords, or make a purchase. Individual recipients usually receive these types of messages. Unlike marketing emails, which are typically sent to a bulk audience, these emails are individualized.
In most cases, transactional emails are usually handled by your own server and website. Although some people may want to use transactional emails in Getresponse, I think most people would use their own SMTP to send transactional emails via their websites/server. In other words, sending transactional emails via Getresponse is totally optional. You don't have to use it unless you don't currently have SMTP configured for your website and you don't have other ways to send out those transactional emails.
The reason I say that is because transactional emails is a paid add-on in Getresponse. The price is based on your monthly send limit. However, depending on your business you may or may not need transactional emails.
Since transactional emails can be sent via your website or SMTP provider, you don't have to use the transactional email service in Getresponse. For example, if all you want is to send emails after a customer purchase a certain product, then you can use the marketing automation workflows for that.
With that being said, if you wish to enable transactional emails, you need to contact a Getresponse sales representative who can help you select the solution that fits your business model.
How to send transactional emails through GetResponse?
The Transactional emails add-on can be used to send transactional emails. It allows you to:
Monitor statistics for sends, opens, bounces, etc.
Keep an eye on the volume of messages sent,
Check your message history for the past 60 days to find out who your messages have reached, which messages they have received, and when they received them.
GetResponse lets you send and track transactional emails via SMTP or API. Once you purchase the add-on, you'll need to integrate GetResponse with an SMTP or API.
Note: This add-on lets you use GetResponse as a transactional email-sending service only. Use the message templates provided by your eCommerce CMS or create a plain text or HTML message of your own.
How to get the Transactional emails add-on?
The Transactional email add-on is available only for MAX accounts. If you're considering getting a MAX account, please contact me here to help you get a custom Getresponse MAX account that fits your budget and business needs.
8) Email Reports and Analytics
Besides the autoresponder, one of the best features that Getresponse offers is analytics. Not only are they able to foster communication between you and your subscriber base, but they also report on what seems to work and what doesn't.
Let's start with the basics of analytics that they offer. First, you can see clearly how many people choose to unsubscribe from your emails. You can also see how many people are clicking the links in your emails and how many are opening your offers. But there are even more things that Getresponse can report to you based on what you want to know.
One of the most unique analytics that Getresponse offers is the comparison option. You can send out two different communications to your subscribers and see which one fosters a better response than the other. This can really help you determine what your customers want to see from you rather than just guessing.
9) E-commerce Tools
Now that I've covered the many different ways that Getresponse allows you to communicate with your subscribers and potential customers, let's talk about the eCommerce business. Getresponse does a lot of work with analytics and letting you know all about your customers. This is extremely important for running your business successfully.
To start, this type of data is something that you need to pay for. So, the free version of Getresponse does not include everything I'm about to discuss. It takes a lot of work to get this data for you, and it is invaluable for a successful business. So, let's talk about what makes it worth your time and money.
First, it is important to know that Getresponse can only collect data on those in your contacts. So, keeping that list up to date is vital in understanding your customer base and analyzing their information. Getresponse helps you keep tabs on which products your customers are buying, how much they are spending, and much more once they make their purchase.
Beyond just purchases, Getresponse can tell you what your customers have in their cart that they did not purchase. You can then use that information to set up automated messages to remind them to continue the checkout process with the items left in their cart.
E-commerce and Marketing Automation
The eCommerce data that Getresponse collects on your customers work well with marketing automation and can make your job that much easier. You can set up automation to recommend similar products based on what your customers purchase. With eCommerce, you are more in touch with what your customers want and can recommend accordingly.
Getresponse gives you the ability to set up workflows that can help you capitalize on the information they provide about your customers. Ultimately, the goal is to send targeted emails regarding products that you recommend based on what they have already purchased. Altogether, eCommerce and marketing automation work together well to help you understand your customers.
Getresponse E-commerce Tools Review
E-commerce is really where Getresponse starts to set itself apart from competitors. Not only is this a great way to keep tabs on what your customers are ordering or viewing, but it can help you foster a better connection with them as well.
If you use the eCommerce features to your advantage, you can send helpful, targeted emails to your client base recommending products you think they will like based on previous purchases. Overall, this is one of the top reasons that I recommend Getresponse for your business. It fosters communication and understanding with your customer base.
10) Marketing Funnels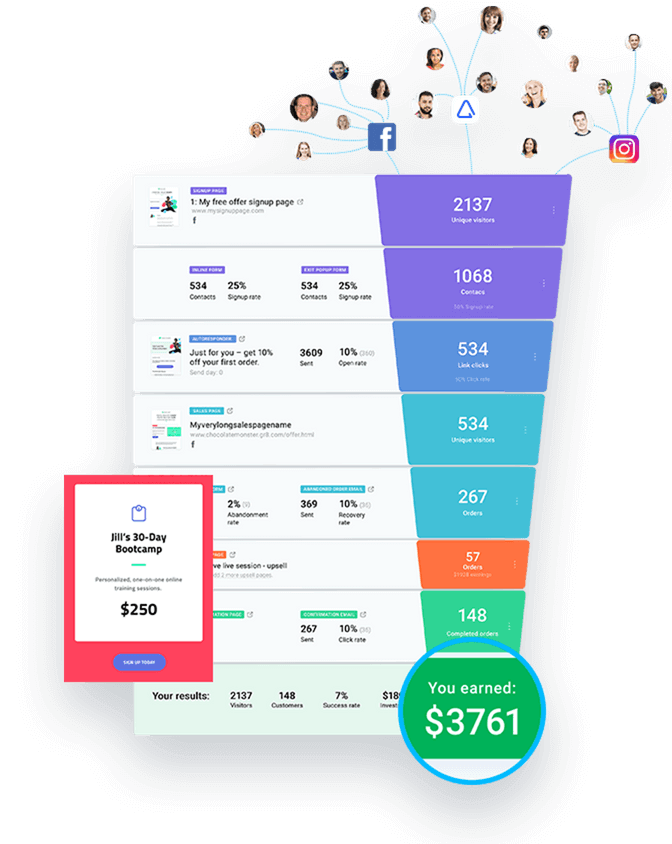 Getresponse marketing funnels are a powerful tool for businesses to optimize their customer acquisition strategies. With the Getresponse marketing funnels, you can create multi-step campaigns, track user behavior, and analyze customer engagement. The funneling approach provides the benefit of segmenting customers based on different criteria such as demographics, interests, and preferences. This allows marketers to target customers more accurately with tailored messages and offers that are most likely to convert into sales.

Marketing funnels can be expensive to create and some software like Clickfunnels charges up to $208 per month to have robust functionality for creating effective marketing funnels with pre-built templates and a drag & drop builder. With Getresponse, you have marketing funnels included at no extra cost.
How to Create Marketing Funnels (Getresponse Sales Funnels and Webinar Funnels)
How to create a Sales Funnel with Upsells and Cross-Sells in Getresponse
11) Website Builder
Getresponse can also help you build a website for your business. You can use a helpful template to build your website, or you can use the more hands-on approach of the AI website builder. If you choose the AI option, then you can choose from many different options and ideas depending on how you want your website to look.
When you choose the AI builder, you will need to fill out some information like what kind of business you have and what kind of website you want. Take your time filling out this information because the more precise you are with your answers, the easier it will be to build your website.
The website builder will also give you some examples of things you may want to include on your website. They can help you add a chat feature, embed videos that you want your viewers to see, and many other cool features you can add to make your website as user-friendly as possible.
The Getresponse website builder also gives you the ability to choose a color scheme for your website. You can choose anything you feel like elegantly represents your business, but this can be an issue for those with existing logos. In this case, the website builder allows you to upload your logo so it can match a color scheme to it.
How to build a full website from scratch in Getresponse
Custom Domain Name (Rebranding with Getresponse)
Getresponse can also help you choose and establish a domain name. This is helpful for any business that needs its own website. Buying a domain name is essentially buying the right to use the website address that you want. So, most companies do this to establish a brand online so that potential customers can easily find their website.
This may not seem like a major priority for smaller or startup businesses, but there are benefits to having your own domain. For example, when you buy a domain, it is completely yours. So, no matter which company you use to host your website, they do not have any rights to your content. This is called "self-hosting."
Buying your domain name also prevents others from claiming it as their own. While you can purchase the domain name from most people as long as they agree to it, you may get stuck paying more money just to have it. So, it is best to get it early to prevent needing to purchase it from a third party and spending more money in the long run.
Purchasing a domain name with Getresponse will cost you $15 per year. Unfortunately, you can't purchase a domain name forever, no matter where or how you purchase it. So, you will need to essentially rent the name and renew the registration when it expires. Getresponse gives you the option to register for up to three years at a time.
Getresponse also gives you the option to auto-renew your domain name registration after the registration period is complete. It is important to monitor this and ensure that Getresponse has your updated financial information if it changes, as the registration period can last up to three years before it needs to renew.
How to assign a custom domain name to your website in Getresponse
Getresponse Website Builder Review
The Getresponse website builder is a great way to build your website from the bottom up or work on the website you already have. There are many different settings to make your website stand out from others without overcomplicating the process. Overall, this is another feature of Getresponse that helps it truly stand out among competitors.
We can't understate the importance of domain name registration. Sure, you can do this in other ways. However, Getresponse offers an average price, not insanely high. Moreover, registering your domain in one place that is also helping you create your website allows you the convenience you wouldn't otherwise have.
12) Landing Pages
A landing page is vital for any business looking to grow its customer and subscriber bases. A landing page is a website page that allows the viewer to become a subscriber by adding their information. It can draw the subscriber in and make them want to subscribe to your content.
You can create your landing page to look however you want, but the Getresponse builder can help you create something intriguing and optimal for your business. You should create a landing page that shows off what your business is all about and makes the viewer want to see more.
Getresponse also has a drag-and-drop editor that allows you to create a landing page quickly without getting too intricately into editing. This still lets you choose important settings for your website without getting too in-depth with website building. Another great thing is that your landing pages are hosted by Getresponse, so you do not have to pay extra for another landing page builder or a web hosting service.
How to create high-converting landing pages in Getresponse
A/B Testing
Above, I discussed A/B Testing with emails, but you can also use this to test out landing pages. To do this, you can create two different landing pages with different styles. Then, Getresponse will keep track of how many viewers actually enter their information and click through the page.
This testing can help you try out some different ideas and see what your customers like best. So, try advertising differently with each page and see how people who visit your landing page respond.
Getresponse Landing Pages Review
When it comes to creating and testing your landing page, Getresponse really stands out among its competitors. Not only do you have full creative freedom to design the exact page that you want, but their drag-and-drop editor allows you to do it quickly.
The A/B testing also adds an important element to your page by allowing you to see how well your landing page setup works compared to another. Unfortunately, you can only compare two different styles at a time with Getresponse. So, you will need to narrow down your options to just two choices before trying it.
15) Webinars
One of the biggest benefits of using Getresponse is being able to reach your customers through webinars. Getresponse allows you to host webinars for your subscribers that want to know more about your company. So, let's talk about how they can help you reach your customer base and foster trust and communication.
Getresponse offers you the chance to reach your audience through audio and video streaming through their webinar tool. You can use this time to reach your customer base on a more personal level. They also have helpful tools like polling, screen-sharing, file-sharing, and even a digital whiteboard.
Their webinars also have options for your attendees. They can attend in a browser either on their desktop or mobile device. They can also use the Getresponse webinar app, which will allow them to view and participate in your webinar without needing a browser.
The webinar app is also useful for you as you can host webinars from it too. So, there are plenty of ways to ensure you can connect with your attendees anytime, whether at home or on the go.
How to create webinars in Getresponse
Why Webinars?
Webinars may not seem like something you need. And for some companies, that may be correct. However, as your business grows, it can't hurt to have a more personal way to directly reach your customers or potential customers. Therefore, let's talk about some different business types and how they may be able to benefit from webinars.
First, webinars are a great way to show your customers how you make your product. If you want to discuss your process for creating the items you sell, then you can do it live with webinars. This gives a unique opportunity to answer questions about your products live as they come.
If your business is interaction-based, then you can use webinars to give previews of your product. If your business is inspiration or self-help based, then you can use these as free previews to draw in more customers as you grow your business.
Webinars are also a great way to meet with other business owners you may know and collaborate with them on ideas. This is easier with Getresponse because your attendees can participate in many different ways. So, use this in many different ways to reach different members.
Cost
Unfortunately, webinars are not free. If you choose the free version of Getresponse, you can still create Webinars, but you will need to pay for them. The amount that you pay depends on the number of people who are attending. For up to 100 people, you will need to pay $40 per month. For 100 – 500 attendees, it will cost you $99 per month.
If you have a paid version of Getresponse already, then you can use the webinar services at no additional cost to you. So, consider the paid version if you want to take advantage of webinars and other paid services. Alternatively, you can choose to just pay for webinars by themselves if the total cost of the service is not ideal.
Getresponse Webinars Review
This is another fantastic way to reach your customers, subscribers, or business partners. The one downside to this feature is that you need to pay for it. However, considering all the options you have available to connect with your attendees, it may be worth considering.
Overall, webinars are great for larger companies that want to give their customers a more personal interaction and understanding of how the business works. Smaller businesses may not benefit from this feature right away, as they may need to grow some before launching a webinar.
17) Integration and API
Getresponse also boasts a great integration system for working with other websites and platforms. This is especially useful for those who already have a working website but need to integrate all of the tools that Getresponse offers. If you aren't building a business from the ground up, that's okay. Getresponse still has plenty to offer you.
Getresponse works with WordPress, WooCommerce, Magento, Shopify, and many other applications to bring you an easy integration process. You can utilize their eCommerce tools with these sites as well to keep track of your customer information. So, you don't need to create your website through Getresponse in order to reap all the benefits of their services.
Getresponse also offers an API key generator for easy website integration. You can use these API keys to add buttons and other features to your website. Getresponse will generate the key for you. From there, make sure you name the API key something you can remember, as they will not be easily distinguishable.
You can use these keys to create pay buttons on your website or add cool features to your site that Getresponse can help you create. So, as you work on integrations for your website, remember to get the API key and save them under a name you will recognize in case you need to remove them from your website at any point.
How to create an API key in Getresponse
Example: How to integrate Getresponse with Shopify
Shopify integration with Getresponse is easy and straightforward. Similarly, it's the same process to integrate other E-commerce apps like Woocommerce and Magento.
Getresponse Integration and API Review
When it comes to integration, Getresponse is nearly perfect. Getresponse works flawlessly with other websites to help you build your business no matter where you started. This is one of the few companies that does not punish you for not using their website builder. Instead, it allows you to use all of the available services no matter who hosts your website.
Getresponse Pricing
Getresponse Plans and Features Comparison Table:
Free
(Free-Forever plan)
Essential
(Email Marketing Plan)
Pro
(Marketing Automation Plan)
Premium
(Ecommerce Marketing Plan)
Getresponse MAX
(Custom Plan)
$0
Starting at $13.30/month
Starting at $41.30/month
Starting at $83.30/month
Get a custom price
Free Forever plan
All Features in the Free plan
All Features in the Essential plan
All Features in the Pro plan
All Features in the Premium plan
Email marketing
Unlimited newsletters
Marketing automation
Quick transactional emails
SMS marketing
Website Builder
Autoresponders
Event-based automation
Ecommerce segmentation
Transactional emails
List for up to 500 contacts
Basic segmentation
Webinars
Abandoned cart recovery
Account migration support
Landing pages
Website and landing pages
Advanced segmentation
Promo codes
Unlimited users
Signup and contact forms
Signup forms and popups
Contact scoring
Product recommendations
Single sign-on (SSO)
Email support
Integrations and API
Sales funnels
Web push notifications
Dedicated Support
Phone Support
Dedicated IP address
Rebranding
Monthly Price For a List Size Of 500 Contacts:
Free
(Free-Forever plan)
Essential
(Email Marketing)
Pro
(Marketing Automation)
Premium
(Ecommerce Marketing)
Getresponse MAX
(custom plan)
Monthly Price
$0
$13.30
$41.30
$83.30
Get a custom price
Monthly Price For a List Size Of 1,000 Contacts:
Essential
(Email Marketing)
Pro
(Marketing Automation)
Premium
(Ecommerce Marketing)
Getresponse MAX
(custom plan)
Monthly Price
$13.30
$41.30
$83.30
Get a custom price
Monthly Price For a List Size Of 2,500 Contacts:
Essential
(Email Marketing)
Pro
(Marketing Automation)
Premium
(Ecommerce Marketing)
Getresponse MAX
(custom plan)
Monthly Price
$13.30
$41.30
$83.30
Get a custom price
Monthly Price For a List Size Of 5,000 Contacts:
Essential
(Email Marketing)
Pro
(Marketing Automation)
Premium
(Ecommerce Marketing)
Getresponse MAX
(custom plan)
Monthly Price
$37.80
$66.50
$118.30
Get a custom price
Interested in Getresponse MAX?
Contact me and I will connect you to my Getresponse rep to set up the best custom plan for you and negotiate a price that meets your needs. This is guaranteed to give you a better quote.
Tiered Pricing
One of the biggest benefits of Getresponse is the tiered pricing system that allows you to have free access to many incredible features for free while your business grows. This allows you to utilize the services and pay as you grow your business rather than paying upfront while your business is still getting off the ground.
Getresponse gives you free access to their product as long as you have below 500 people on your mailing list. So, small businesses can use this product for free and allow their business to grow before paying anything. Then, as you gain more customers, you can begin to choose higher tiers as you need them and pay from there.
Unlike some other tiered pricing companies, Getresponse doesn't hold back their key features just for those who pay. When you sign up for the free version, you will have access to everything you need from Getresponse to help grow your business and build relationships with your customers. Simply put, they don't punish you for choosing the free version.
As your customer base grows, you will need to choose a higher tier based on the number of customers you need to reach with your emails. So, prepare to pay for the service if you already have an established customer base of over 500 people.
Once you reach the higher pricing options, it is no longer a set amount you need to pay. This is because Max and Max2 are tiers designed for any business with over 1,000 subscribers that needs to create its own pricing based on its needs. Getresponse will help you determine the price of your plan as you tell them what your needs are.
Custom Features and Pricing
Going along with the previous pro, Getresponse allows you to adjust your own features and pricing based on what your business needs. To figure this out, you will need to speak with a member of the Getresponse team. They will help you figure out exactly what you need and get you a price based on those needs.
With these custom options, you'll get additional features that you would not otherwise get in the free and lower-tiered versions of Getresponse. This is because you are designing your Getresponse experience the way you need it to work for your business needs.
The Max tier options are great for any large company looking to find easier ways to manage their customer communications. But this isn't the only benefit that the higher tiers can bring. Paid tiers can help you build your website, create auto-responses for your customers, and host webinars on the website.
I'll go more in-depth on the free and paid services that Getresponse offers, but this should help you figure out the basics of what they offer. It can also help you see whether the free or paid options are best for your business.
Should you Sign up for the Getresponse Free plan or the 30-Day Trial Of a Paid Plan?
If you are new to Getresponse and you don't have too many subscribers, then the free plan is a good starting point. If however, you want to unlock all the tools in Getresponse and you already have a list of more than 500 subscribers, then you should sign up for a free trial of any of their plans.
One of my favorite parts of Getresponse is their flexible plans and customization. Not only are you able to utilize their website for free if you have a smaller customer base, but you can also try a 30-day free trial of their paid services to see if it is right for your business.
This goes to show the company's integrity and how much they stand behind the product they offer. For 30 days, you can get the benefit of having more than 500 subscribers handled by Getresponse completely for free while deciding whether or not the product is right for you.
So, there is no hiding behind a paywall or getting you to pay immediately without understanding what you get in return. Ultimately, the free plan and free trial show how much Getresponse wants to help businesses succeed by offering their services free when they can and charging only when you know what to expect from them.
No Set Pricing for Custom Options
While I understand the reasoning behind this, it is still a downside for Getresponse. There is no set price for Max and Max2 options because you need to first specify what you're looking for from them, but it means you won't know until they quote you.
While it is understandable, there are some reasons that businesses may hesitate to take this route. For starters, many businesses are running on a set budget. While this doesn't mean the price will automatically be high, it can be challenging for businesses to know whether or not this service is even in their budget at all. So, it may make this seem like a waste of time.
I'm using the Getresponse MAX plan myself and I was able to negotiate a really good price on my plan. If you want to sign up for the Getresponse MAX plan, please contact me using this form. I'll get you set up with my account manager and we will help you get a custom Getresponse MAX or MAX2 plan that fits your budget and business needs. I was able to help others get great MAX quotes since I have a good relationship with Getresponse.
No Phone Support Except for Max2
One major con for Getresponse is the fact that they do not offer phone support for customers unless they are on the Max2 tier. This means that you will need to contact the company via email or instant messaging on their website with help and questions.
This can be a major downside for businesses that prefer to talk to a live person on the phone to answer their questions or fix any issues. While this can be frustrating, it is important to talk about why they choose this method of communication.
Getresponse is a remote-first company. This means that they encourage remote work first and foremost by allowing their employees to work from home whenever possible. This means that they do not offer on-call employees for every tier simply because they want to give their employees the freedom to work from wherever they are.
So, you will get help through instant messaging and emails very quickly, but talking to someone on the phone is only accessible to the Max2 tier as they foster a better environment for their employees. However, don't think this means they don't care about your business, as people are still reachable through email and instant messaging anytime you need them.
Now, let's take a look at Getresponse vs. competitors: How does it stack up?
Getresponse Review: The All-in-One Marketing Platform
As you can see, Getresponse is a powerful all-in-one marketing platform that has many tools to help businesses grow their audience and increase sales. Now, that you know more about what to expect from Getresponse let's get into a more detailed review of Getresponse, what it can offer you, and how good are the competitors compared to Getresponse.
Getresponse Vs. Competitors
Getresponse vs. Clickfunnels 2.0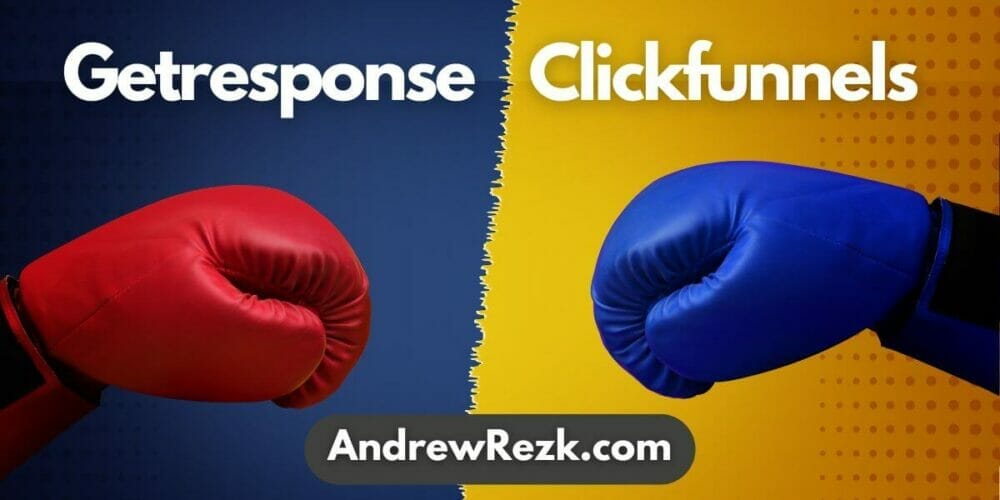 Now that I have covered the vast features of Getresponse, let's see how it compares to other similar companies. First, let's look at Clickfunnels. Clickfunnels is primarily a sales funnel builder or landing page builder, but you can do more things with it, including setting up email campaigns and autoresponders. While both Clickfunnels and Getresponse can offer similar services, their main focuses differ.
Here's a quick comparison of Getresponse and Clickfunnels 2.0:
Features
Getresponse
Clickfunnels 2.0
Price
Free and up
$147 to $297/month
Free Trial
Yes, 30 days
Yes, 14 days
Free Account (up to 500 subscribers)
Yes
No
Main Focus
Email Marketing
Marketing Funnels and Landing Pages
Marketing Automation
(Advanced workflows, tagging, custom fields)
Advanced
Basic
Email Marketing
(Send email newsletters and autoresponders)
Yes
Yes
Emails Lists
Yes
Yes
Segmentation
Yes
Yes
Autoresponders
Yes
Yes
Newsletters
Yes
Yes
Pre-built Email Templates
Yes, many templates
Yes, fewer templates
SMS
Yes
via third-party integration
Web Push Notifications
Yes
No
Transactional Emails
Yes
No
Ecommerce Tools
(Synchronize your products data and sales)
Yes
No
Marketing Funnels
Basic
Advanced
Landing Pages
Yes
Yes
Websites Builder
Advanced
Basic
Courses Builder
No
Yes
Membership Sites
Yes
Yes
Blog Posts Builder
No
Yes
Webinars
(Host a live free or paid webinar)
Yes
via third-party integration
Chatbox
Yes
No
Embed Forms and Pop-ups on your website
Yes
No
CRM
Basic
Advanced
A/B Testing
(A/B test on emails and landing pages)
Emails and Landing Pages
Landing pages
Dedicated IP For Email Sends
Yes
No
Analytics and Reports
Advanced
Basic
Customer Support
LiveChat, Email, and Phone
LiveChat and Email
Getresponse vs. Clickfunnels Comparison table
First, it is worth noting that Clickfunnels is more expensive than Getresponse. They both offer a free trial of their paid services, but Clickfunnels only lasts 14 days, while Getresponse gives you 30 days to try it out. The cost of Getresponse ranges from $0 (with the free-forever plan) up to a custom price (with the Max plan) based on factors like your list size, email sending limit, and features. On the other hand, the cost of Clickfunnels ranges from $97/month (with the basic plan) up to $297 (with the platinum plan).
Getresponse also focuses heavily on email communications and building and fostering customer relationships that way. However, Clickfunnels focuses more on building your marketing funnels and creating content that can draw in an audience.

Clickfunnels has a more robust marketing funnel builder that lets you create any type of funnel with a few clicks. You can clone funnels, split-test pages, and optimize your marketing efforts to generate more sales. Getresponse has more advanced features when it comes to email marketing, automation workflows, and contact segmentation, but their marketing funnels are basic when compared to Clickfunnels.
Getresponse Vs. Clickfunnels 2.0: Verdict
Overall, the main differences between these companies have to do with how much they charge for their services and their main focuses. If you are looking for a way to build marketing funnels and pages to create your online presence, then Clickfunnels may be right for you.
However, if you want a complete marketing platform with more focus on customer communications, Getresponse is the better choice. Having an email marketing platform is essential to any business so if you're just starting out and you just need one marketing tool, then I recommend Getresponse, given that it's an all-in-one tool and, has more communication options, and an overall better focus on customer relationships.
Getresponse vs. MailChimp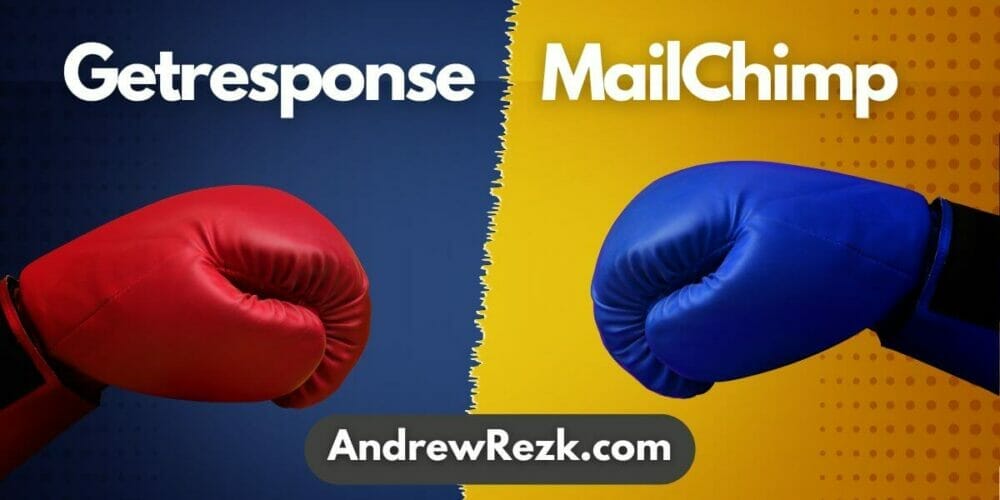 Getresponse and MailChimp are a lot more similar than Clickfunnels. They both have tiered pricing plans that also include a free version. The pricing is actually quite similar between the two brands. One way that MailChimp stands apart from Getresponse is that they offer a pay-as-you-go option that Getresponse doesn't have available.
The pay-as-you-go option is great for small but growing businesses. When you choose a plan in Getresponse or MailChimp, you have to pay more depending on how many subscribers you have. This can get complicated and expensive when you are in between these set amounts. So, the "pay as you go" option prevents you from paying more than you need to as you can pay for and send the exact number of emails you need.
Another major difference between these companies is templates. Both offer email templates for you to contact your subscriber base. First, it is worth noting that Getresponse has about 70 more templates than MailChimp. Moreover, some of MailChimp's templates aren't free. They do have quite a few free options, but there are some templates they charge extra for.
One thing that separates MailChimp from the competition is split testing. I discussed A/B testing with Getresponse above, but MailChimp allows you to test multiple features simultaneously. On the paid versions of MailChimp, you can send up to five different email templates for testing to see which one gets the best customer response. If you're in the highest tier, you can even test eight different email templates to see what your customers respond to.
Much of the eCommerce and testing is otherwise similar between the two brands. One standout factor is that Getresponse allows you to create groups based on data collected from your subscribers. So, you can better personalize your correspondence with Getresponse compared to MailChimp.
Getresponse Vs. MailChimp: Verdict
This one was more difficult to decide, but I chose Getresponse as the best overall. Not only do they have more email templates, but all of their templates are also free for their users. If you want more intricate testing, then MailChimp might be best, but keep in mind you will need to pay extra. Overall, I think Getresponse has a better dashboard, their user interface is easy-to-use, and they have plenty of features that fit most businesses so they cost less money compared to other tools.
Both, Getresponse and Mailchimp are valid choices for your business to help foster healthy customer communication, and both make it easy to integrate your website with their platform. But it is worth mentioning that MailChimp is more expensive when you get to higher tiers.
Getresponse vs. HubSpot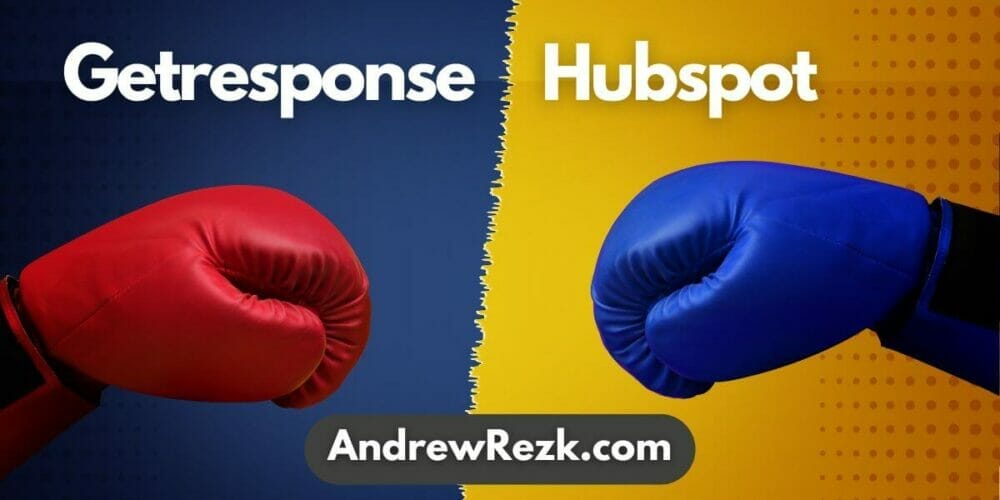 One of the biggest differences between Getresponse and HubSpot is pricing. While their content is only slightly different, HubSpot is a lot more expensive. Not only does Hubspot not offer a free version, but their pricing is significantly higher than Getresponse.
The basic version of HubSpot covers 100 clients, which is the same as the free version of Getresponse. The basic version of Hubspot will cost you about $200 per month. So, there is a very significant price difference between these two companies without much of a difference in what you receive.
One way that HubSpot sets itself apart from Getresponse is through webinars. While both companies offer webinars, HubSpot webinars have more features and other aspects that make them better than Getresponse.
For example, HubSpot allows you to easily send reminders of upcoming webinars, so people don't miss them. Because they are a paid service, all invited attendees must show up for the event. So, reminders are a very important part of the process.
Another example of how HubSpot makes its webinars easier for you is that they allow easy communication with attendees after the event. Once you host a webinar, HubSpot will keep track of everyone who attended so you can easily send out a communication to them. This is a great opportunity to thank attendees, follow up on their experience, and see what they may want from future webinars.
While Getresponse puts care and consideration into their webinars, HubSpot really goes the extra mile. Both companies allow you to host guests, but Hubspot fosters better communication with attendees both before and after the webinar takes place. So, if webinars will be a big part of your company's growth, consider Hubspot.
Getresponse Vs. Hubspot: Verdict
While I don't want to understate the importance of webinars, it seems like they are the only way that HubSpot stands out from its competitors. Sure, they offer great communication with potential attendees and allow you to easily follow up afterward, but is that worth the significant price difference between the two companies?
Not only does Getresponse offer similar services across the board, but they also offer these services at a significantly lower price. If your company has fewer than 100 subscribers, you may not be able to afford $500 per month for HubSpot while your business grows.
It is especially detrimental because you aren't getting much more than you would with Getresponse, which is cheaper. So, you may want to avoid HubSpot unless you want to spend a lot of extra money per month for a better webinar service alone. For us, Getresponse is the clear winner here.
Getresponse vs. Convertkit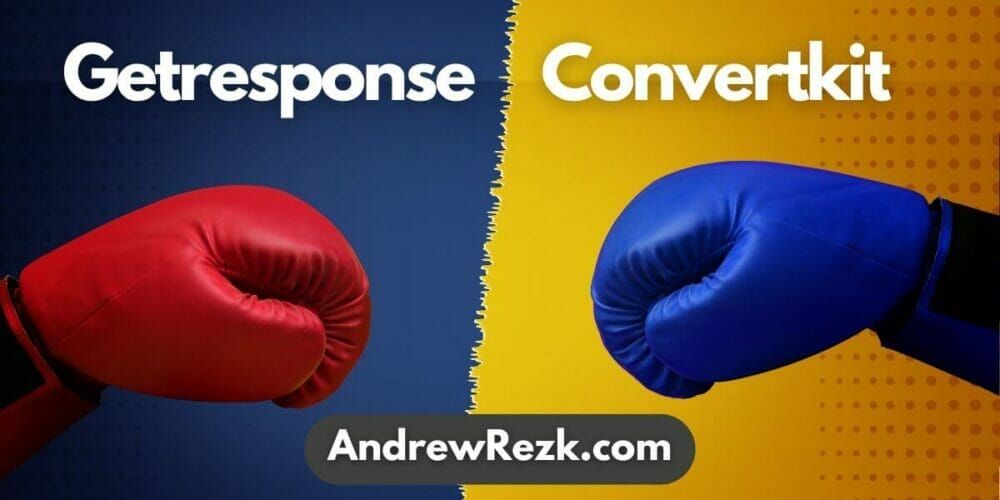 Getresponse and Converkit are two companies that may seem almost interchangeable on the outside, but they have some important differences. First, Convertkit does not offer a free version of its service. They have a 14-day free trial before you start paying, but after that, you will need to choose a tiered pricing plan and pay for the service.
While Getresponse aims to cover as many business types as possible, Convertkit seems to focus more on bloggers who want more attention to their content. Of course, there's nothing wrong with having a main focus as a company, but Convertkit may end up alienating other business types by focusing so heavily on blogging.
Because it focuses so heavily on blogging, Convertkit has one of the best WordPress integrations available. While Getresponse can work with WordPress as well as other website hosts very easily, Convertkit focuses on WordPress alone. This makes it more difficult to work with other platforms.
Convertkit may be an optimal choice for your needs if you have a blog, as they focus heavily on that content. However, you may feel a little out of place using this service for other business types. It will still work successfully, but integration and communication can be more challenging to accomplish here.
It is also worth noting that Convertkit really lacks in the data department. This is one instance where Getresponse pulls ahead of a competitor in this category. If you want details of who's clicking what on your website and in emails, then Getresponse is the better option here. Because Convertkit works so closely with WordPress, they fall back on their analytics rather than creating their own.
Getresponse Vs. convertkit: Verdict
Overall, Getresponse is the best option here without much argument otherwise. They are better optimized to handle customer communication and provide better data when it comes to who is clicking on your content.
If you're a blogger, you can consider Convertkit as a better choice. However, Getresponse also works with WordPress as well as other websites. So, you are not missing out on integration by choosing Getresponse. Overall, when presented with the option to choose, go for Getresponse over Convertkit.
Getresponse vs. Aweber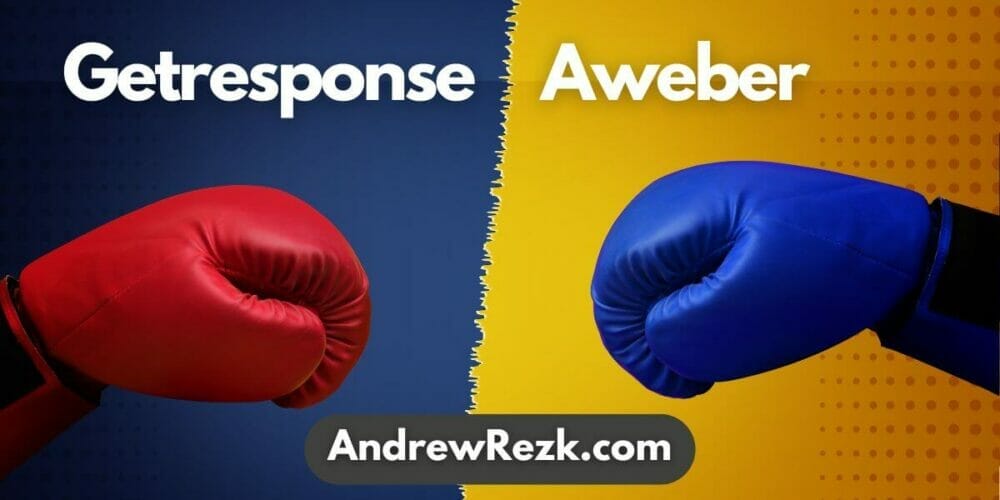 Getresponse and Aweber are quite similar, but there are a few key differences to keep in mind. First, Getresponse has more variety when it comes to fonts and other design elements to make your communications stand out. Getresponse really stands apart from Aweber when it comes to customization and user-friendliness.
Getresponse has plenty of email automation features and options for sending different communications to different groups. While Aweber offers similar services, there is no comparison here. Not only does Getresponse make this process easier for you, but they also have more specific criteria you can use to create these lists.
One feature that can make Aweber the better option for your business is its testing. Much like Getresponse, Aweber offers testing to determine what styles work better with your customers and provides feedback. The main difference between the two is that Aweber allows you to test multiple different aspects at the same time, whereas Getresponse only allows two.
When it comes to eCommerce and analytics, Aweber pulls ahead of Getresponse again by providing a much more in-depth look at customer interactions. Not only can you access this information anytime you want with Aweber, but their customer interaction analysis goes much more in-depth than Getresponse.
Aweber also offers customer service via phone, no matter which plans you choose. This differs significantly from Getresponse because they only offer phone customer service for the highest-tiered plans. So, keep this in mind if you prefer to speak to someone live on the phone rather than instant messaging or emailing.
Getresponse Vs. Aweber: Verdict
This is a more difficult comparison, and your choice here will depend on your individual needs. If you need a company that is willing to have customer service representatives ready to take your call even if you aren't on the highest-tiered plan, then Aweber may be the best option for you. If you prefer instant messaging instead, then Getresponse has you covered.
Otherwise, these companies are very similar. Aweber can provide you with more detailed reports about customer behavior on your website and in emails. So, if you're more of an analytics fan, then Aweber may be the best option. However, if you're focused more on communication and building customer relations, then Getresponse is still the winner.
Getresponse vs. ActiveCampaign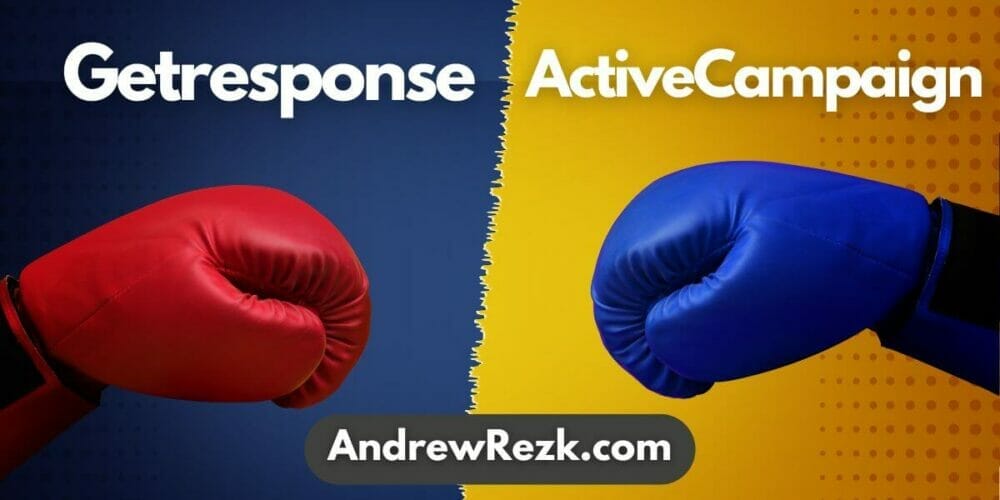 This comparison is the closest one of the bunch. These two companies have the same goals and provide very competitive features all around. To discuss the differences between these two brands, I will have to go into a lot of detail because they are so similar. So, let's see how they measure up.
Both Getresponse and ActiveCampaign have plenty of email templates for you to choose from, but ActiveCampaign actually offers more of them. ActiveCampaign also pushes for more modern templates, whereas Getresponse offers more intricate, catchy designs that may not appeal to everyone. So, the choice here depends on your style choices for your content.
ActiveCampaign also pulls ahead of Getresponse in providing website integration options. Both companies offer plenty of options, but ActiveCampaign offers more. So, if you want to better personalize and maintain your website, ActiveCampaign does a better job of providing you with vast options to set yourself apart from other websites.
One way that Getresponse clearly beats ActiveCampaign is through landing pages. Both companies have easy-to-use landing page creation tools, but the main difference here is that Getresponse offers this on paid and free versions. Alternatively, ActiveCampaign only offers landing pages on paid versions of their product.
This is significant because ActiveCampaign does not offer a significantly better process for setting up landing pages. So, in this case, you're paying more for essentially the same service by choosing ActiveCampaign over Getresponse.
ActiveCampaign offers a vast number of reports and analytics to help you determine how your website is performing overall. As we know from the above reviews, this is where Getresponse struggles to keep up with the competition. While they do offer a well-thought-out set of analytics, they're nowhere near as comprehensive as those of ActiveCampaign.
For all the businesses on a budget out there, this may be the selling point for you. As we know, Getresponse offers a free version for businesses with smaller client lists who need help getting off the ground. Unfortunately, ActiveCampaign does not offer a free version of its content. They also only offer a 14-day free trial, whereas Getresponse offers 30 days for free.
Getresponse Vs. ActiveCampaign: Verdict
This is the closest comparison by far. Ultimately, the winner depends on what you really need. If you have a starter company that can't afford a monthly plan, then ActiveCampaign may be too much for you as they have no free plan available. Getresponse can help you with many different aspects of your business for free without needing payment until your customer base grows.
However, ActiveCampaign wins in other ways. They have more modern email templates for you to choose from. They also have a lot more customer data they can provide to you than Getresponse.
While it is a close comparison, I still choose Getresponse as the winner here. Not only is there a free version that offers many benefits, but the free trial also lasts twice as long as that of ActiveCampaign. Getresponse also offers a similar landing page creation experience without you needing to pay for it. So, Getresponse is better for businesses with a budget.
Getresponse vs. Klaviyo
Both Getresponse and Klaviyo offer a wide range of features and tools to help businesses grow their email list and improve their email marketing campaigns. But I prefer Getresponse as it is an all-in-one marketing platform that offers more features and better value for the money, while I think Klaviyo's main area of focus is e-commerce. Let's break down the main differences between Getrespone and Klaviyo.
Pricing: One big difference between Getresponse and Klaviyo is the pricing. Getresponse has a wide range of pricing plans to suit a variety of business sizes and budgets, while Klaviyo has only a couple of plans depending on whether you're planning to send emails, or emails and SMS. Overall, Getresponse pricing is cheaper than Klaviyo while offering more marketing tools, so it's a win for Getresponse.
Email volume: Another key difference between Getresponse and Klaviyo is the email volume. Getresponse offers tiered plans based on the number of contacts and you get unlimited email sends, while Klaviyo provides a couple of tiered plans based only on the number of contacts and a limited number of sends. With Getresponse, you can even get a custom plan based on either the number of contacts or emails sends. Overall, Klaviyo has more limitations on both, the email volume and contacts you can have.
Campaign types: Getresponse also offers different types of email marketing campaigns, while Klaviyo only offers email marketing.
Marketing automation: It is no doubt that the marketing automation in Getresponse is more robust and flexible compared to Klaviyo. In Getresponse, you can add multiple triggers in the same workflow, for example, you can have subscribers from multiple lists go into one flow. In Klaviyo, you can have just one trigger in a flow which is very restricting.
In Getresponse, you can use the marketing automation workflows to easily move contacts between lists. In Klaviyo, you can not do that and your options are pretty limited. Overall, Getresponse offers more robust marketing automation and it's definitely better than the one in Klaviyo.
List Segmentation: both offer similar segmentation features. Plus, you can add "Tags" and "Custom fields" to your contacts.
Integration options: While both platforms offer integration with other tools and services, Getresponse offers a wider selection including WordPress, Magento, Shopify, Clickbank, Paypal, Google Analytics, Salesforce, Hubspot, and many others.
A/B Testing: Getresponse provides the ability to perform A/B split tests on emails and landing pages. This allows users to test out two different versions of their emails to see which one performs better. A/B testing is an important part of email marketing, as it allows you to improve your campaigns over time.
Klaviyo also offers A/B testing for emails and landing pages. However, they do not offer A/B testing for other elements of their platform, such as popups or forms. This is a bit of a downside, as A/B testing can be very helpful in optimizing your marketing campaigns.
Getresponse Vs. Klaviyo: Verdict
After comparing Getresponse and Klaviyo, I'd say that they are both great options for email marketing. They both offer a wide range of features and are easy to use. However, Getresponse has better pricing and more tools than Klaviyo. Also, Getresponse has good Ecommerce features and integrations similar to Klaviyo. After testing them both for quite a long time, I'd recommend Getresponse over Klaviyo. I don't see a good reason to go with Klaviyo unless you have an e-commerce site with very specific requirements and you prefer the e-commerce integration in Klaviyo. in my opinion, Getresponse wins as it checks all the boxes for me.
Getresponse Review: Final Verdict
Now that I have discussed all the intricate details of Getresponse and compared it to its competitors, let's give our final verdict on whether or not Getresponse will work for your business.
Overall, Getresponse is the best option out there for marketing through customer communications. If you need to simplify the way you reach your customers, then this is the way to do it without spending too much time and energy. Let's face it, running a business is difficult enough. So, allowing Getresponse to help with customer communication is key.
First, one of the best parts about Getresponse is that they understand small business needs. If you have a startup or a small business, you may not have a lot of extra funds available to put toward an emailing service. So, the free version of Getresponse can help you reap the benefits of the company without even needing to pay.
The way that pricing works is that you will only need to pay as your business grows. So, this leaves room for you to use their email marketing services and run your business while only paying for the service if your business actually grows. So, use this to your advantage by using their free version while your business is smaller to help it grow.
One thing I need to address is data and analytics. Now, Getresponse is a company that focuses on email, reach, and communication. So, not many people go into it expecting to get a ton of analytics. Looking at their competitors, you can see that Getresponse does not provide as much data as other companies.
This doesn't mean that you won't get any data from Getresponse, though, because you will. However, if data is your main concern, then Getresponse may not be the best choice for you overall. Consider some of the other companies above if your main focus is data collection and you want more detail about the interactions on your website and in your emails.
Other than analytics, Getresponse stands out ahead of its competitors. They provide a ton of help with your communications for free. They give you access to webinars, SMS capabilities, A/B testing, contact list hygiene, and many other features that can help ease communications and allow you to focus more on other aspects of your business.
If any of these features seem appealing to you, then I highly recommend Getresponse. Not only can you sign up for the free version to see if it meets your needs, but you can also try the 30-day free trial of paid versions of Getresponse to give yourself an idea of what they can offer you.
Remember that Getresponse can help you build a website and will work for your needs even if you already have an established business. So, don't think you're too far ahead in the process to try Getresponse. It can benefit companies of any level who want to simplify their customer communications without spending too much time or money in the process.
Getresponse FAQs:
How old is Getresponse?
Getresponse is a software company that has been in business for over 20 years. It was founded in 1997 by Simon Grabowski and It's headquartered in Gdansk, Poland. Getresponse is used by many small businesses and large corporations alike.
Why use Getresponse over other alternatives?
The main reason to use Getresponse is that it offers a wide range of features and services, making it a versatile tool for businesses of all sizes. Some of the features include autoresponders, landing pages, webinars, and a wide variety of email templates. It is easy to use and has a wide range of integrations, making it a popular choice for many businesses.
Getresponse has one of the best deliverability rates in the industry, so you can be sure that your emails will always end up in your recipients' inboxes. Lastly, Getresponse has affordable pricing and they have a free forever plan.
Is GetResponse Easy To Use?
Yes, the GetResponse platform is designed to be user-friendly and easy to navigate. Even users with little to no technical experience should be able to find their way around the interface without difficulty.
The GetResponse platform comes with a variety of features and tools that can be used to create professional-looking email campaigns, and the platform's drag-and-drop editor makes it easy to customize email templates to fit your brand's style. Additionally, Getresponse has 24/7 support via email and live chat in case you need help.
Can I use GetResponse for free?
You can try any of the Getresponse's paid plans for free for 30 days, or you can sign up for the new Getresponse free-forever plan which is a great way to get started with email marketing in Getresponse. With the free-forever plan, you can have a list of up to 500 subscribers and you can send unlimited emails per month.
Whether you choose to sign up for the free-forever plan or a free trial of any paid plan, you would have a chance to try Getresponse for yourself and see if it's the right choice for your business. When you try Getresponse, make sure you test all the main features including email marketing, autoresponders, templates, and reports/analytics.
How does Getresponse Work?
Getresponse is an online marketing platform that helps businesses create and manage their email marketing campaigns to improve their ROI. With Getresponse, you can easily create beautiful email newsletters, autoresponders, and landing pages that capture leads and convert them into customers.
Getresponse also provides robust tracking and reporting features so you can measure the performance of your campaigns and optimize their results. To understand how Getresponse can work for your business, sign up for a free 30-day trial of any of their paid plans.
Is GetResponse good for email marketing?
Yes, GetResponse is a popular email marketing solution that offers a wide range of features and a simple interface. It is suitable for businesses of all sizes and industries. GetResponse has a high email deliverability rate and provides users with detailed reports and analytics. In conclusion, Getresponse is powerful for email marketing and marketing your products or services using an all-in-one marketing service.
What are the benefits of using Getresponse?
Getresponse is an email marketing platform that helps businesses connect with their customers. I like Getresponse's simplicity and user-friendliness. It is truly one of the best email marketing systems for small business owners and entrepreneurs. I recommend that you give it a try to see for yourself.
Some of Getresponse features that can benefit businesses include:
An easy-to-use interface: Getresponse's interface is designed to be user-friendly, so you'll be able to create beautiful emails quickly and easily.
Complete marketing platform: you can automate a lot of your email marketing tasks with Getresponse
Powerful marketing tools: Getresponse provides powerful tools to help you track your results and optimize your campaigns.
A wide range of templates: Getresponse offers a wide range of email templates to choose from, so you can find the perfect one for your business.
Excellent marketing automation: Getresponse has one of the best marketing automation that I have tested. Their flexible automation workflows allow you to automate almost any marketing scenario.
Landing pages, marketing funnels & website builder: Getresponse has many great features including the ability to create marketing funnels, landing pages, and even a complete website from scratch. This cuts off the costs of having to use other tools.
Great deliverability rates with a dedicated IP option: Getresponse is known to have good email deliverability and you can even use a dedicated IP address for improved results.
Affordable Prices: the Getresponse plans are affordable when compared to other alternatives. In fact, with Getresponse you get more tools and better value for your money.
24/7 customer support: If you have any questions or need help, Getresponse's customer support team is always happy to assist you via email or live chat.
What Made GetResponse One Of The World's Leading Email Marketing Software?
GetResponse is one of the world's leading email marketing software platforms because it offers a comprehensive set of features that allow businesses to create and send highly effective email campaigns. GetResponse's intuitive interface makes it easy to create and manage email campaigns, and its wide range of templates and tools enables businesses to customize their messages to their target audiences. GetResponse also provides powerful tracking and reporting tools that give businesses insight into the performance of their campaigns, making it easy to optimize results.
Does GetResponse Email Go To Spam?
There's no easy answer to this question as it depends on a number of factors, including the content of your email and the email server you're using. However, we can say that GetResponse Email is not likely to end up in spam folders if you follow the best practices for email marketing. This includes keeping your list clean and updated, using a double opt-in process, and avoiding common spam triggers like using all caps or excessive exclamation points in your subject line.
What is the Getresponse Email Deliverability Rate?
Getresponse's overall deliverability rate currently stands at 99%, which is great. However, this rate can be affected by many factors, including the quality of your email list, the frequency of your email sends, and the content of your emails. A high deliverability rate is essential for maintaining a good sender reputation and ensuring that your emails are reaching their intended audience.
To get the best email deliverability, you should follow the best practices for the technical aspects of email delivery, such as setting up DNS records and configuring SPF and DKIM, as well as the more strategic aspects, such as developing a good sending reputation and avoiding blacklisting.
Is GetResponse the best Email Marketing platform?
There is no one answer to this question as it depends on a number of factors including the specific needs of your business. However, GetResponse is generally considered to be a good email marketing platform thanks to its wide range of features, flexible tools, ease of use, and pricing.
In my opinion, Getresponse is a complete marketing automation platform and it's a good choice for marketers, entrepreneurs, small businesses, and large corporations.
Will Getresponse Help Your Business Grow?
No doubt that every business needs good marketing to grow and thrive. Getresponse does provide a variety of tools and resources that can be useful for businesses seeking to grow, so it is worth considering as part of your overall marketing strategy.
Is Getresponse the Right Tool for Your Business?
When it comes to email marketing, Getresponse is often cited as a good tool for businesses. However, it's important to consider whether Getresponse is the right tool for your specific business needs. There are a few factors to consider when making this decision, such as the size of your business, your budget, and your goals for using email marketing.
What are the Pros and Cons of GetResponse?
How does GetResponse's pricing compare to that of its competitors?
GetResponse's pricing is very competitive when compared to its competitors. It is one of the most affordable email marketing platforms on the market, and it offers a wide range of features for its users. GetResponse also has a number of pricing plans to choose from, so you can find the perfect fit for your business.
Additionally, Getresponse recently released their new forever-free plan which allows newcomers and small business owners to use it for free until they feel the need to scale up their business and resources.
Does Getresponse integrate with payment providers?
Yes, Getresponse can integrate with the most popular payment providers including Paypal, Stripe, Square, and PayU.
What are Getresponse alternatives?
There are a number of Getresponse alternatives available on the market today. Some of the more popular email marketing solutions include AWeber, MailChimp, Sendinblue, and Activecampaign. Each of these services offers a different set of features, so it's important to choose one that best meets your needs. For example, if you're looking for a service that offers a lot of automation and integrations, then AWeber might be a good choice. If you're looking for a cheap alternative, you might consider Sendinblue.
How good is GetResponse customer support?
GetResponse customer support is great. They have 24/7 support via live chat and email. If you are on the MAX plan, you get phone support and a dedicated account manager. I have had a great experience with them. They are always available to help with any issues and they are very knowledgeable about the product.
How to Create a template in GetResponse?
In GetResponse, templates are created using the Template Builder. To create a template, you will need to select a layout, add content blocks, and then customize the look and feel of your template. Once you are satisfied with your template, you can save it as a draft or publish it.
What Is a Getresponse Workflow?
A Getresponse Workflow is an automated process that helps you manage your email marketing campaigns. It can automate email marketing tasks such as sending out messages, managing subscribers, adding tags, personalizing messages, and tracking results.
How To Contact Getresponse?
There are a few ways to contact Getresponse. The most common way is to email them at [email protected]. Also, you can fill out a form on their website or live chat with a customer service representative. Alternatively, you can visit their support page.
Where can I view all my contacts in Getresponse?
In Getresponse, you can view all your contacts by clicking on the "Contacts" tab in the main navigation bar. This will take you to a page where you can see all your contacts, as well as their contact information and contact history. On this page, you can also add new contacts by adding them manually or by importing them via a CSV file.
To search contacts, you can use either the Getresponse normal search or the advanced search which gives you more filters to filter contacts and target the group of people that you're looking for. After that, you can easily export your contacts to a CSV file.
How To Import a list of contacts in Getresponse?
You can easily import contacts into Getresponse in a few steps:
1) In your account, click on the Contacts tab and select the Contacts List option.
2) On the next page, click the Add New Contact button.
3) A popup window will appear. Select how you want to add contacts.
4) You can add contacts by either adding them manually one by one, uploading a file, connecting a service, pasting from a file, or migrating a list from another list source like Activecampaign, Mailchimp, and Aweber.
5) Click the 'Next' button and you will be able to assign all the fields for your imported contacts
6) Lastly, click 'Import' and your contacts will be imported.
How To Export a list of contacts in Getresponse?
You can export contacts in Getresponse in a few steps:
1) In your account, click on the Contacts tab and select the Contacts List option.
2) Use either the normal search or the advanced search bar to filter your contacts and find the contacts that you want to export.
3) Click on the three dots in the right-hand corner and select the 'Export' option.
4) A new pop-up window will open. Give your file a name and select the export file type (CSV, XML, or XLSX).
5) Click the 'Export' button and your file will be exported.
Does GetResponse have a CRM?
GetResponse is not completely a CRM. However, it allows you to profile your contacts and score them appropriately in order to determine which leads are ready for conversion. This should be enough for most people but, if you need all the bells and whistles of a CRM, Getresponse integrates well with several popular CRMs, including Salesforce, HubSpot, and Zoho.
How To Build A Website Using GetResponse Website Builder?
Building a website in Getrsesponse is easy and only takes a few steps:
1) Select the 'Website Builder' tool from the main menu and click 'Creare website'.
2) Choose how you want to build your website using the 'Ready-made templates' or 'an AI-powered builder'.
3) With the 'Ready-made templates' option, you simply select a website template to proceed, while with the 'AI-powered builder' option you answer a few questions for the website to be created for you.
4) Once you have selected a template, use the website builder to customize it to match your specific needs and preferences. You can add your own content, including text, images, and videos.
5) Once you have completed all of these steps, you will be able to publish your website and make it available to the public.
6) Additionally, you assign a custom domain to rebrand the website URL.
How to Create a Custom HTML Email Template in GetResponse?
In order to create a custom HTML email template in GetResponse, you need to use the GetResponse Email Template Builder. This builder allows you to create a template tailored to your specific needs. You can add modules to your templates, such as a header, footer, and body, and then customize each module with your own HTML code. Once you have created your template, you can then save it and use it whenever you need to create an email in GetResponse. Lastly, you can preview your template and edit it in HTML if needed.
Can I create additional accounts in my MAX account?
Yes, in Getresponse MAX, you are able to create additional accounts in order to manage different aspects of your email marketing campaign. This is beneficial if you need to create separate accounts for your team members or clients, using single login information.
How to add Etsy products to my Getresponse account?
You can integrate Etsy with Getresponse. Add your Etsy products to Getresponse in a few steps:
1) Select 'Integrations and API' from the main menu.
2) Look for the Etsy app and click 'Connect'.
3) You will be redirected to Etsy where you'll need to log in and connect your account.
4) Once your Etsy account is connected with Getresponse, all your product listings will be synched.
GetResponse's integration with Etsy lets you import all your Etsy listings. It can be used to display your products on landing pages and in emails. Make personalized recommendations, upsell your products, and promote your brand.
How to integrate Square with Getresponse?
You can integrate Square with Getresponse in a few steps:
1) Select 'Integrations and API' from the main menu.
2) Look for the Square app and click 'Connect'.
3) You will be redirected to Square where you'll need to log in and connect your account.
4) Once your Square account is connected with Getresponse, you will be able to process credit card payments.
Getrespone's integration with Square lets you set up sales pages and order forms in Getresponse while having Square handle the payment processing when your customers buy from you.
How to get the GetResponse API keys?
In order to obtain the GetResponse API keys, follow these steps:
1) Select the 'Integrations and API' option from the main menu.
2) Click on the 'API' tab and click on 'Generate API key'.
3) Give the API key a name to identify it later.
4) Click 'Generate' to generate the API key.
5) Your API key is now ready! You can copy and paste it anywhere to establish connections with your Getresponse account.
6) Additionally, you can create more API keys if needed.
How to connect Zapier with my GetResponse account?
You can connect Zapier with Getresponse in a few steps:
1) Log in to your Zapier account and create a new zap.
2) In the search bar, type in 'Getresponse' to find the Getresponse app.
3) Enter your Getresponse login credentials to connect to Zapier.
4) Once your Getresponse account is connected with Zapier, you can proceed to the next steps to establish a connection between Getresponse and any other third-party tool that you'd like to connect to using Zapier.
How To Promote Getresponse?
There are a few ways to promote Getresponse. One method is online marketing. This can be accomplished by creating informative blog posts or videos that explain how Getresponse works and why it is beneficial. Another way to promote Getresponse is through social media marketing, email marketing, SEO, and online advertising.
How To Delete/Cancel Getresponse Account?
If you would like to delete your Getresponse account, you may do so by following these steps:
1) Log into your Getresponse account and select Profile > Billing.
2) Scroll down and click on Cancel subscription. If you do not see this option, contact [email protected] to cancel your account.
3) You will find steps 1 of 3 on the following page. Here you'll find a summary of your account: you'll see how many contacts, newsletters, drafts, and autoresponders you'll lose when canceling.
4) To cancel, scroll down and click Proceed to the next step.
5) A cancellation warning will appear after you click the link in step 2 of 3.
6) Check the agreement box, provide your feedback, and click on the 'Cancel' button.