On this page, I will show you the violation email I received from Google Adsense, I will explain the reason for that violation, and how I was able to fix it to comply with AdSense program policies. 
Before we try fixing any Adsense violation, we first need to understand what was the main cause behind the violation so that can fix it permanently and avoid having similar violations in the future. Keep in mind that not all Adsense violations are the same, some require few steps, others may require additional steps or require filing an appeal, however the concept of fixing any Google Adsense violation is the same.
Note: The violation I received was a site level violation, not an account violation as shown in the screenshot below.

So what is the difference between a site level violation and an account level violation?!
Site level violation simply means that one or more of your sites are violating Adsense policy/or webmaster guidelines. Site level violations can simply be resolved by taking the required action and fixing the violation on your website, that may include things like editing content, removing ads, changing ad layout, ..etc. If you don't take the required action within a certain time, ad serving may be disabled.

Account level violation will affect your Adsense account as a whole, not a single site. These violations could be temporary as a 30-day suspension or they could result in your account getting disabled permanently. Account violations mean that you are doing something heinous and you are getting your account into troubles.
Overview
For many bloggers and webmasters, Google Adsense is one of the easiest and fastest ways to earn recurring income online from their websites. Google Adwords is used by the largest companies and advertisers around the world, thus for publishers, Google Adsense is one of the best-paying Ad networks with the highest CPC (Cost-Per-Click) revenue. That's no secret why many people prefer to monetize their websites with Google Adsense rather than using any other Ad network.
Since Google has the world's highest paying advertisers, they care about their advertisers like no one else. They want to provide their advertisers with the best ROI (return on investment), therefore they are very strict about the quality of the websites in which their ads are shown.
If you are new to Google Adsense and you've got your website approved to display Google Adsense ads, that's great but remember you will want to make sure that your website's content, layout, and ad placements are complying with Google Adsense program policies. Otherwise, you are at risk of receiving violation notices which may affect your ads serving or worse could lead to having your Google Adsense account suspended.
Google always monitors your websites and you may receive a warning of a violation at any time if you don't comply with their policies even if you have been a publisher with Google Adsense for many years (like myself). With that being said, let me show you the violation email I got from Google Adsense.
Google Adsense Violation Email
Subject: AdSense: Action required to comply with AdSense program policies.

Hello,

This is a warning message to alert you that there is an action required to bring your AdSense account into compliance with our AdSense program policies. We've provided additional details below, along with the actions to be taken on your part.

Affected website: xxxxxxx.com (URL Hidden, it's one of my niche sites)

Example page where the violation occurred: http://xxxxxxx.com

Action required: Please make changes immediately to your site to follow AdSense program policies.

Current account status: Active

Violation explanation

Publishers may not implement Google ads in a manner that disguises the ads in any way. In order to maintain a good user experience, it is important for publishers to clearly distinguish Google ads from site content. This includes, but is not limited to site layouts in which the ads push content below the fold on mobile devices; placing 300×250 or larger ad units above the fold on a mobile-optimized site.

In order to remain fully compliant please ensure that your site and ad layout remain compliant across all devices. More information about this policy can be found in our help center and on this short video.

How to resolve:
If you received a notification in regard to page content, we request that you immediately remove

Google

ads from the violating pages. If you are unable to, or unsure of how to remove the ads from these pages, or would like to continue monetizing the page with

Google

ads, please modify or remove the violating content to meet our AdSense policies.
If you received a notification in regards to the way ads are implemented on your site, please make the necessary changes to your implementation.
You do not need to contact us if you make changes. Please be aware that if additional violations are accrued, ad serving may be disabled to the website listed above. You should immediately take the time to review your pages with Google ads to ensure that they comply with our policies.
Additionally, please be aware that the URL above is just an example and that the same violations may exist on other pages of this website or other sites that you own. To reduce the likelihood of future warnings from us, we suggest that you review all your sites for compliance. Here are some useful resources you might be interested in.
For more information regarding our policy warning notifications, visit our Help Center.
We thank you in advance for your cooperation.
Sincerely,
The Google AdSense Team
As you can see, the email gives a brief explanation of the violation and provides some useful resources for resolving the issue. It may not be clear enough for some people, after all, it's an automated email so at least it gives you an indication of what to look for on your website. Google is known for sending vague emails that confuse people sometimes as I explained in a related post for fixing a Google play app suspension.
The Reason for My Google Adsense Violation:
As per the email above, the violation was somehow related to 300×250 or larger ad units shown above the fold on mobile devices, so I went to investigate that. I knew I had two 300×250 ads showing next to each other on the homepage right below the home page slider. I had them for a long time with no problem and never thought that they would cause a violation until I viewed the website on my mobile phone.
I realized that while the two 300×250 ads were showing next to each other on my laptop screen, they were showing on top of each other on the mobile phone screen. As you would expect, a single 300×250 ad unit would take the full width on a mobile screen, so if you have two 300×250 ad units on top of each other it would fill the whole screen on mobile and Google didn't like that.
These two ad units were above the fold (I've placed them just below the homepage slider) above the content. Also, I was using a two-column blog layout so I think that has contributed to the violation as well. The ad units seemed to be a part of my website content (posts).
Here's how my 300×250 Ads were showing
On Desktop: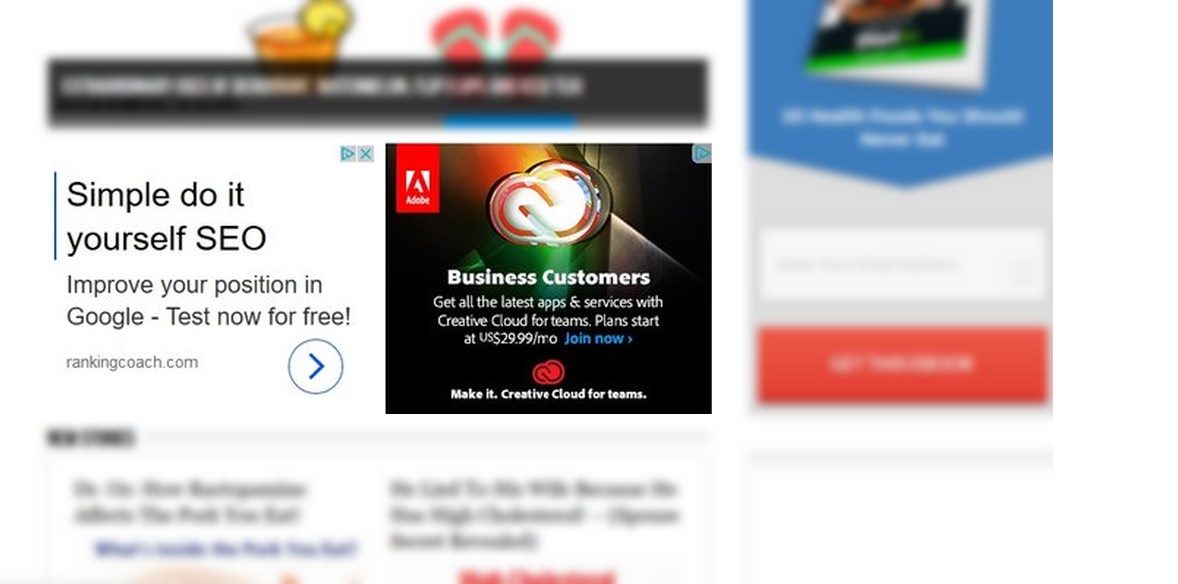 On Mobile: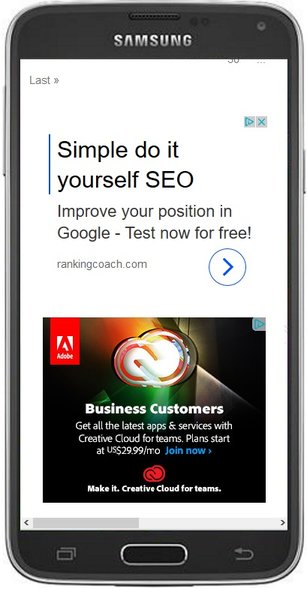 Let's take a look at the Google Adsense dashboard to view and fix the violation.
5 Steps to fix Google Adsense violation
To fix the violation we need to edit the website, remove ads or/edit content then we need to go login to Google Adsense to mark this violation as "resolved", all within three working days from receiving the violation notice (or ad serving may be disabled). Lastly, we should ensure that site and ad layout remain compliant across all devices.
Here a few simple steps I've used to fix the (large ads above the fold on mobile) violation:
1. Locate the ads that cause the violation on your website.
Check the email you received from Adsense and log into your Adsense account to view the action required to bring your account into compliance. Once you understand the reason for the violation, simply locate the ads on your website and make the necessary changes.
In my case, the action required was related to the large ads above the fold on mobile:

"Action is required to bring your AdSense account into compliance with our AdSense program policies.  Please make changes to the above site within three working days.  We may spot-check the site again after this time. Once you've made the changes, hit the "Mark resolved" button below and complete the short form.  Please be aware that if you do not make changes to bring your site into compliance, ad serving may be disabled to the website listed above. Learn more "
2. Edit your content or Ads to comply with Adsense program policies.
Depending on the violation, you may need to edit your content, remove content, change ads, remove ads or change the location of your ads on your website to comply with Adsense policies.
In my case, I have removed the two above the fold (300×250) ads as they were taking the whole screen on mobile and that was the reason for violation. However, I could have replaced them with one (468×60) ad, or I could have moved one of the two (300×350) ads somewhere else on the page (ex: sidebar) and kept only one (300×250) ad. I could have even used a different ad layout for mobile screens.
What I mean is, you don't always have to remove ads in order to fix a certain Adsense violation. There are different solutions to try depending on your violation and the action required. In most cases, fixing Adsense violations is as simple as changing ads or editing content.
3. Test your ad layout on all devices to ensure compliance.
To ensure that your site and ad layout remain compliant across all devices you should test your website on different devices (desktop, tablets & mobile).
In my case, the violation was related to how my ads were showing on the mobile screen, that's why you should pay attention to how your ad layout is showing across all devices.
If you are using WordPress, some plugins allow you to change the ad layout or choose a different ad size to display on small screens. That helps you avoid such ad violations that are related to mobile screens. Again, I could have tried that as an option instead of removing ads 😉
4. Login to Google Adsense and click on "Mark resolved"
Once you have done the required changes on your website, log into your Adsense account and click on the "Marked resolved" button. Tick the box that says: "I have made changes to yourwebsite.com to address the above violation and checked the rest of my site for compliance", then choose what changes you have made (removed ads, removed content, edited content ..etc) and Click on "submit"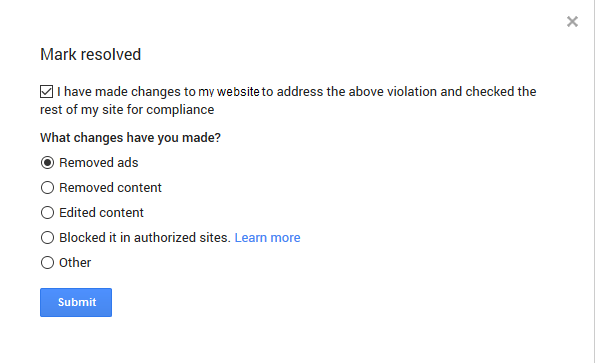 5. Monitor your site/other sites for violations
After marking violation as resolved, the violation status should now turn to "resolved" on your Adsense account. Google recommends that you monitor your site as well as any other sites you have with Adsense ads running for violations to avoid ads being disabled in the future. After a few days, that notice will disappear from your Adsense account.


That's it. Now you know how easy it is to fix any Google Adsense violation you may encounter in the future. The concept is the same for any violations. Once you determine the reason for the violation, you should be able to fix it with few clicks. In most cases, fixing Adsense violations is as simple as changing ads or editing content. 😉
Have you had any similar Adsense violations? Have you been able to fix them? What do you think about Adsense? Feel free to share your experience in the comments section below.
If you like this post, please share it with your friends or with those who have similar interests.