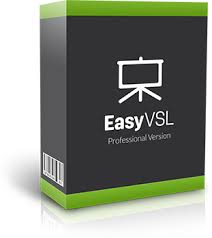 I have purchased Easy VSL software and on this Easy VSL review, I will reveal to you things that you do Not know about Easy VSL, PROS & CONs. And share my overall experience using the software. I have been using Easy VSL since the time it was first released back in January 2015.
Many cool features and Improvements have been made to the software since the time I wore this review. The new Easy VSL 3.0 has many great features and makes the process of creating video sales letters easier than ever. Below on this page, you will find an overview of all the new features compared to Easy VSL 2.0 and Easy VSL 1.0.
Let's go over how Easy VSL works, what kind of videos you can create with this software and some examples of videos that I've created with this tool.
As a Bonus Tip for You: I will share with you a way to make some quick money in case you decided to buy EasyVsl, so make sure you read my bonus section on this page for more details.
What is Easy VSL?
(This video shows EasyVSL version 1.2.3, See all the new added features below) 
Easy VSL is a downloadable software by Mark Thompson and Matt Callen (two online marketers, known for their success and good products reputation). The software work for both Mac and PC, It allows you to create video sales letters (VSLs) easier and faster. No need to waste a lot of your time creating VSLs using powerpoint or paying a lot of money for someone to create video sales letters for you.
Easy VSL is a very simple, easy-to-use software that doesn't require any previous video editing experience. Easy VSL allows you to create video sales letters in 6 easy steps as I'm about to show you on this page. And yes, you have full control over each slide just like powerpoint. You can easily edit fonts, add images, choose a background image or add your own, duplicate slides, record your voice-over or upload an audio file, and easily sync your audio with your video. The whole process takes a few minutes instead of hours.
Inside Easy VSL Member's Area: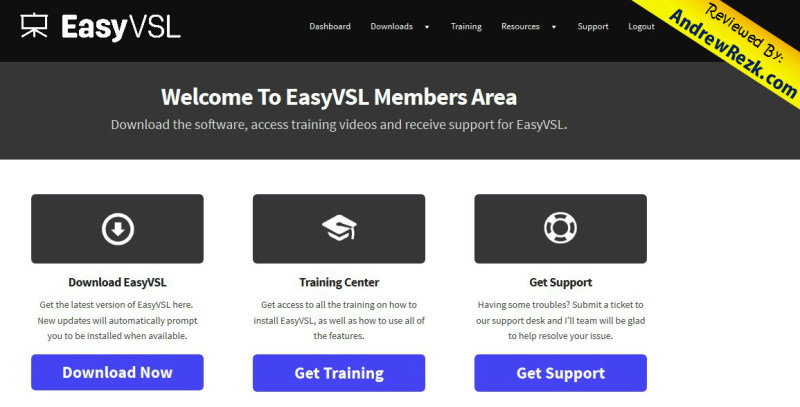 When you purchase Easy VSL, you will get access to a members area dashboard where you will be able to download Easy VSL software, access training videos on how-to-use the software, and get support. You will also get a free bonus webinar that teaches you how to clone & build profitable video funnels using ClickFunnels. Now, let me explain more about how & why use Easy VSL software!
How Easy VSL Work?
Easy VSL allows you to create your video sales letter in 6 easy steps:
1) Creating VSL: Create a new VSL project, then you can select one of 2 options:
Create a VSL from scratch: Typing text on each slide as you do in Powerpoint
Paste text: You simply paste all of your text from notepad, Ms word or any text editor. (This saves a lot of time)
2) Adding Split marks: Add split marks where you want your slides to end as I've explained in my video above.
3) Choose Background theme or color: Choose your background style and color.
4) Editing slides: Easy VSL will create all your slides with the text you specified for each slide. On this step, you will have so many options, you can change the theme for each slide or for all slides, select a different background, edit text, edit font type, edit font size, edit font color, create/remove slides, align text, select transition type, do bulk changes & much more.
5) Add Audio to timeline: Simply choose any audio file (for example a music or a voice-over file) and Easy VSL will load it up on the timeline then simply choose where you like the transition between each slide & slide to take effect. All you have to do is to play your audio inside Easy VSL and as your audio plays, you simply click on the slides at the time you want them to appear.
You will have a simple drag timeline editor with a video display screen, so if you make any mistakes with the slides timing, you can always fix them with a few clicks. (Just like the timeline of any advanced video editing software, but in a simpler way)
6) Publish your Video: Click Publish, choose your video quality (High definition, standard quality..etc) and your video will be ready.
By using these 6 steps, you can literally create a video sales letter in just a few minutes that's why I like using Easy VSL myself.
Why Use Easy VSL?
Video sales letters can help you increase your sales tremendously. No matter if you are promoting your own products or someone else's products, we all know that people prefer to watch videos rather than reading a long sales letter. It has been proven that videos can help increase conversions by 220%. The problem most people face when creating videos is that it's very time consuming and expensive.
Before Easy VSL, in order to create a video sales letter you would either:
Create the Video sales letter yourself, normally by using Microsoft powerpoint (Very time-consuming)
Hire someone to create the Video Sales letter for you (Expensive)
The process of creating video sales letters in powerpoint is normally as follows:
Open powerpoint and create many slides.
Copy a few lines of your Sales letter or sales copy to each slide in powerpoint manually until you create a full powerpoint presentation.
Record a voice-over or audio.
Play your powerpoint presentation and try to match your audio with it, by clicking your mouse for each new slide to appear.
This process can take hours, It already takes a lot of time just to create slides inside powerpoint, not to mention the time requires to do things like changing fonts, adjusting text, adding images, ..etc. You got the idea!
That's where Easy VSL comes in and that's why I think it is a useful tool.
Easy VSL Pros:
Easy-To-Use
Drag & Drop Interface
Frequent Updates and Improvements
Easy VSL Cons:
Can not use a Custom Background (Update: that feature has been added on

v. 1.3.20

)
Can not duplicate slides (Update: that feature has already been added on v. 1.3.15)
Since Easy VSL 3.0, the software is no longer a one-time payment, it requires a monthly subscription (more on that below)
Easy VSL Features:
Since the time I downloaded Easy VSL, there have been frequent updates and improvements being made the software and it's getting better.
At the time I wrote this Easy VSL review, I had Easy VSL version 1.2.1 which had a bulk action option for changing fonts, slides, animations as well as a new better interface for editing the timeline. Now with Easy VSL 3.0, there are many cool things you can do like creating kinetic style videos, automated speech recognition, instant image search library, sound effects library, import & export feature, and much more! (See all Easy VSL 3.0 features below)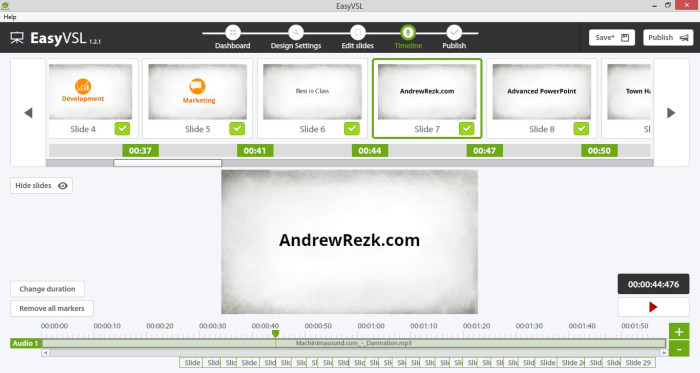 You can drag and drop any slide on the timeline, and you can also zoom in or zoom out the timeline for more accurate timing.
Easy VSL Main Features:
Simple point & click interface: easily point anywhere on any slide to add text, images and move things around. (it is much easier than powerpoint)
Custom colors & Backgrounds themes: Pick up any background color, choose from the ready background themes or even import and use your own Custom Background Design (coming update)
Automatic slide creation: Paste all your text at once, and Easy VSL will create all the slides for you automatically (saves a lot of time)
Save & Edit Videos: create any video inside Easy VSL and it will be saved in the dashboard. You can later edit, duplicate or delete any video with ease.
Custom fonts: Easy VSL has some beautiful text fonts to choose from.
Easy Timeline Editing: as I mentioned above you can easily control each slide timing.
High quality .MP4 videos format: Easy VSL allows you to create HD quality videos in Mp4 format, which is considered to be the most supported format that works on any device.
Ability to Insert Video into your Presentation: Simply add any video as a slide to play inside your presentation
Mass Update Fonts and Slide Animation across all slides: Edit Fonts and Background of all slides in Bulk
Support the ability to add multiple audio files (not just one)
Ability to use.WAV or .Mp3 audio files

Publish Your Video WITHOUT Audio
Easy VSL 2.0 Features & Updates:
The new Easy VSL 2.0 included more Features and enhancements. Some of the Added features that I liked personally are:
Text animation Feature: with the new Easy VSl 2.0, now you can add animations and effects to your text as it comes on to the slide
Built-In Audio Recorder: Allows you to record and edit your voice-over directly in the software timeline
Text to speech (TTS): Choose any of the built-in natural sounding voices in the software to read the text on each of your slides, and to create an audio file that can be used for your EasyVSL video. With this feature, you do not have to create a separate Voice-over file. (very cool)
Easy VSL 3.0 Features:
Easy VSL 3.0 comes with enhanced features plus newly released functionality to make VSL creation even easier than ever before. Here are some of the new cool features:
Automatic slide creation
Paste in your text and let EasyVSL generate slides for you automatically, eliminating the need to manually enter content slide by slide.
Custom slide background themes
Added a library of over 75 background templates. You can simply pick a color, gradient, background image, or custom layout, and get a gorgeous background for your presentation in just seconds.
Custom Fonts
More custom fonts have been added and pre-loaded within the software.
Insert Existing Video Clip (Very Cool)
Easy VSL 3.0 allows you to insert a video demo of your product, in front of the camera video, or any video to the timeline. I have been waiting for this feature myself as there have been times when I wanted to add a short video to my VSL but couldn't do that without using video editing software. Now, it's possible inside Easy Vsl 3.0
Speech-to-Text Video Creation
Easy VSL 3.0 will automatically detect your speech and convert it to text when creating each video slide.
One-Click Translation
This is another powerful feature, you can translate your text using the built-in translation tool inside Easy VSL 3.0 and within a few minutes, you can have multiple videos, specific to the language of your choice.
One-Click Video Syndication (Powerful)
Easy VSl 3.0 allows you to publish your video to video sites like Youtube, Vimeo, Wistia and many others automatically from inside the software.
Added Quick key shortcuts
Quick key shortcuts allow you to work faster around Easy VSL, you can do things like Undo/Redo, Copy, Cut, Paste, Bold ..etc directly from your keyboard.
Export Slides to PDF (nice)
With EasyVSL 3.0, you can export your slides into a PDF document, so you can use them for a presentation or to share with your clients.
Improved Timeline Editor
The timeline has been upgraded to support multi-layer (so you can add multiple audio and video files inside the timeline), control the audio volume without having to use a 3rd party audio editing program, and timeline snapping (you can Zoom-in/Zoom-out and make instant cuts in your video/audio files just like a video editing program)
Kinetic Explainer Style Videos
This is a new typography style videos that have been used by many people because these kinds of videos can draw viewers' attention. You can create these typography style videos inside Easy VSL 3.0 to deliver your message in a creative way.
Automated Speech Recognition (Sweet)
In Easy VSL 1.0 and 2.0, you had to manually sync your video slides with your voiceover audios. In Easy VSL 3.0, you no longer need to do that as it will automatically sync your entire audio with your video slides and transition the slides at the right time.
Instant Image Search Library
Search and find images faster. This library gives you access to over 1,000,000 royalty free images & graphics directly inside EasyVSL so you can easily add images to your videos.
Sound Effect Library
Easy VSL 3.0 comes with a built-in sound effects library, you can easily add another level of professionalism to your videos using these sound effects or you can upload your own.
Import/Export functionality
You can easily import & export your Easy VSL projects from one computer to another running EasyVSL.
Import Powerpoint presentations (Awesome)
One of the great new features in Easy VSL 3.0 is that you can import existing Microsoft Powerpoint presentations into EasyVSL. This saves you a lot of time, no need to manually copy & paste text to your slides.
YouZign Integration
YouZign is a tool for creating graphics, ads, social media covers, ebook covers & more. If you are using YouZign you can easily import your created images into your EasyVSL videos.
My Bonus Tip:

How to Make Money Using Easy VSL?

Creating videos specially VSLs is really hot these days, almost everyone in every niche is using VSL. Most people use Easy VSL to create videos for their own products and businesses.

What if you don't have products to sell? well, you can create videos for other people or promote other people's products as an affiliate, that's another easy way to make money with Easy VSL.

Think of business owners, marketers, Youtubers and vloggers who need to create professional videos. Reach out to these people and offer them your video creation service, show them examples of videos you've created (using Easy VSL). You can charge them for every video or have them pay you a monthly fee for video creation & editing service! You decide.

You may also check freelancing sites like Freelancer, Elance or Upwork and start promoting your work there. You will find tons of people who need help in creating video sales letters for their businesses. If you enjoy creating videos, why not use Easy VSL to create VSLs for them and make money that way 😉

In fact, at the time I got Easy VSL 1.0, there used to be a separate agency license sold for $97 which allows you to sell the videos that you create with this software. Since Easy VSL 2.0, they have removed the agency license option,  so now if you grab Easy VSL at the regular price, you should be able to sell your videos to your clients at no additional cost.
Conclusion:
Before Easy VSL, I used to create my VSL using advanced video editing tools like Camtasia. Although these advanced video editing tools are good, they are not designed to create video sales letters!
Here's what I mean, as an example to create a video sales letter using Camtasia, it will literally take me 1 hour or more just to copy & paste each line of my text manually to the video's timeline. Not to mention the time required to adjust fonts, colors, animations, and synchronizing text with an audio file.
We (marketers) need a simple tool that can save our time and create high-quality video sales letters easily. And that's what Easy VSL is all about. It is built by marketers, for marketers, and it is designed specifically for creating VSLs.
So in my opinion, yes Easy VSL is well worth the investment especially with all the free coming updates & features being added to the software, It's becoming more valuable.
Click here to get Easy VSL 3.0
Have you tried Easy VSL software? Have you ever created a video using any video editing tool?
Share your comment or thoughts below. I'd love to answer all your questions.

Summary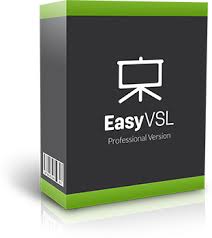 Author Rating
Brand Name
Product Name