Andrew is an internet entrepreneur, business coach, marketing strategist, and WordPress tutor with a strong desire to achieve goals in life and passion to make a difference in the lives of others.
Andrew has helped several multi-million dollar companies grow their business and increase their sales; using the most up-to-date techniques for website creation, e-commerce, social media, and advertising campaigns. In addition, his mindset coming from an engineering background serves double duty as he possesses high-level technology, software, and coding skills. This combination of marketing and technology is the ideal skill set for today's e-commerce domination in online sales.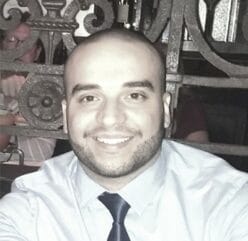 Through his many years working as a marketing strategist, he has developed a formula to help small businesses and young individuals start their journey to increase their sales online without spending too much money upfront on things that are not essential to their business or things that are purely technical such as like web hosting, web development, coding ..etc.
Andrew believes that anyone can build a successful online business if they know what they are doing. People need is a proven-formula or a successful business model (system) plus a way to get consistent customers (traffic) to their business.
There are many business models available today but with each business model, you need to learn different skills, tools, and spend a considerable amount of time, energy, and money to make it work.
Andrew believes that there are no shortcuts to success. However, there is always a way to work smarter, not harder. On this website, you will learn how to do that and you'll avoid making mistakes that can cost you a lot of time and money along your journey.
AndrewRezk.com is an entrepreneurship site for online marketers and business owners where Andrew shares his tips, strategies, and reviews for building and growing a business online. Everything you need to know from building your website to marketing your products, growing your business, and increasing sales.
Join Andrew's email list to receive his latest updates (We only send a few emails and you can unsubscribe at anytime)
No matter how small or big your business is, everyone has to start somewhere and there is no better time than now.

No matter what you are selling whether it's a product, service, online course, or coaching session.

No matter how you are getting your customers whether it's through online ads, blogging, social media, networking, ..etc.
You have a huge opportunity to succeed and make an impact.
You can scale and grow your business.
You are unique and there is someone out there who needs your help, service, product.
Go grab the opportunity and make your dreams become true. Let's keep in touch, Follow me on Youtube, Facebook, and Twitter.
To your Success,