I have came across Work From No Home course, and this is my full review of that product, so you can decide whether it will work for you or not!.
What is Work From No Home?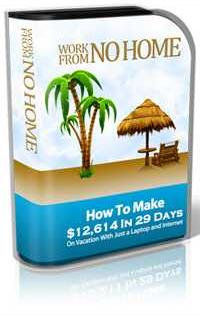 Work From No Home is an online training course (created by Peng Joon and John chow) that teach young entrepreneurs how to make money online by using the same strategies and methods, Peng Joon is using to create websites, get better rankings and make money. Infact i was so curious to know what this young guy can provide inside this course, as for many people he seems to be young to have a good successful roadmap to give to people, right?
Infact, when i bought this course, i found that it provides alot of good information, i think that's because John chow has participated in building that course, if you are familiar with any of John chow products, you'll find that it's pretty clear that work from no home follows the same style of John's products which is very good. I respect John, because he always provides alot of value in his products and work from no home covers all the necessary basics and strategies required to build a strong money making website which is always recommended, specially for newbies and people starting out.
Work From No Home starts from the basics on: how to pick up a good niche to target, creating your website, hosting and DNS Setup upto content creation, SEO, Backlinking strategies, free traffic marketing, and outsourcing.
Here's a Quick Video Tour of the Members Area:
About The Creators (Peng Joon and John chow) :
John Chow is a famous blogger and creator of many successful internet marketing products, learn more at: Blogging with John Chow review and Im John Chow review.
Peng Joon is a young super affiliates, who started in 2004 as an affiliate to promote digital products online (specially in the gaming niche), his first product was a guide for the World of Warcraft game, and his latest guide was for Diablo 3 game, these guides are very famous on Clickbank marketplace.
What You Will Get Inside "Work From No Home"?
Below are all the main topics and content you will learn inside work from no home:
– Picking Your Market
– Basics
– Content Creation
– SEO
– Backlinking
– Stand Out Techniques
– Outsourcing
– 30 Day Action Plan
– Done For You Templates
– Support
Picking Your Market
Finding a Hot Trend
What Types of Things to Promote
Generating Domain Name Ideas
Staying Plugged In
Basics
Purchasing A Domain
Hosting
DNS Setup
Installing WordPress
Content Creation
5 Golden Rules of Content Creation
The First Page of Content
Digging Into the Content
Supplemental Pages
Micro Articles
Video Content
Spinning Your Content
CTAs and Copywriting
The Content Plan
Tapping into social Media
SEO
On Site Vs. Off Site SEO
SEO Considerations in a Post-Panda & Post-Penguin World
General On Site SEO
SEO and Content
Offsite SEO
Backlinking
What Not to Do
Initial Linking
Content Based Backlinking
Forum Signatures and Blog Comments
Guest Posting
Advanced Backlinking Strategies
Stand Out Techniques
Conversions & Getting Ranked On Google
Press Release Marketing
Youtube Marketing
Advanced Youtube Strategies
Market Samurai 1
Market Samurai 2
Market Samurai 3
Outsourcing
My Theory on Outsourcing
Outsourcing in Action
My Outsourcing System
Finding People for Your Projects
Using Elance
Hiring a Virtual Assistant
Tips and Tricks for Speedy Outsourcing
30 Day Action Plan
Day 1 – Find a Topic & Domain Name
Day 2 – Keyword Research and Domain Pickup
Day 3 – Setup Your Account
Day 4 – Content Planning and Writing
Day 5 – Post Your Content
Day 6 – Promote Your Site
Day 7 – Article Marketing
Day 8 – Continue SEO
Day 9 – Review Rankings
Day 10 – Launch review Results
Day 11 – The Second Website
Day 12 – Outsourcing
Day 13 – Scaling Up the Process
Day 14 – Removing Yourself from the Process
Day 15 – Getting Organized
Day 16 – Collaborating Across Sites
Day 17 – The Third Site
Day 18 – Profit Review
Day 1 9- Reaching Out to Potential Partners
Day 20 – Increasing Action Speed
Day 21 – The Fourth, Fifth, and Sixth Sites
Day 22- Creating a Hub for Your Sites
Day 23 – Site Variety and Diversity
Day 24- Evaluate Your Launches
Day 25- Your First Cell
Day 26 – Time to Invest?
Day 27 – Virtual Assistance
Day 28 – Creative Strategies for New Sites
Day 29 –Launch Calender for Month 2
Day 30- Take a Break
Done For You Templates
In this section, there are many of ready templates and resources for your websites, including: PLR Articles, Products, graphics..etc. these packages are all packed in a .zip format ready for download. Many different types of niches are included, ex: Health, Home business, internet Marketing, Gardening, Poker..etc.
Support
This is the support section, where you can ask any questions and get them answered.
My Conclusion:
After going through Work From No Home, i can say that it's a good informative course, specially for newbies and new comers to the internet marketing world, however i have some concerns regarding the backlinking strategies inside this course, as it's advised to:
1. Stay away from forum profile links because it's not effective ..which is wrong, as diversity of links is important for search engines and getting profile links can affect your ranking positively
2. Don't build low page rank links .. again wrong, in order to make your linking profile look natural, your site should get a variety of both high and low PR links.
Another bad thing, (in my opinion) is that Work from No Home course doesn't have alot of videos. it depends mainly on articles, but if you prefer reading over watching videos, you won't have problems with that. I've noticed that the course follows John's style which is good.
So my final thought, If you're just starting online, you'll find alot of useful content inside work from no home, however for the price i recommend you take a look at blogging with John chow first, then decide which course is right for you.
Summary
Reviewer
Review Date
Reviewed Item
Author Rating