What is Shoe In Money?
Shoe in Money is an online training course by Jeremy Shoemaker (author of best selling Amazon book: The ShoeMoney Story).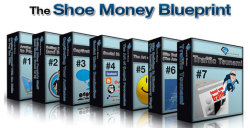 Shoe in Money course consists of 7 modules as well as some free bonuses, money systems, and 30-day action plan. Inside this course, Jeremy teaches much valuable info. like: how to creating your own brand, how to do affiliate marketing correctly, how to use the power of social media and advertising, how to persuade people to buy your product or affiliate offer, Copywriting tips, SEO, Traffic Techniques and much more.
About Jeremy Schoemaker:
Jeremy was named as the most influential person on the internet by Fast Company magazine in 2010. Shoe in Money isn't his first program but it is considered one of his best because he has put some good training materials and years of expertise inside this course as you'll discover in this review.  Jeremy has been creating products, websites and promoting things for himself and other marketers for about 10 years now, so he has become an expert.
What You Will Get Inside "Shoe In Money"?
Below is a list of exactly what you get inside the member's area.
Module 1
10 things that work (and 20 that Don't)
Leverage What other people are doing
Module 2
What Can you promote?
Clickbank 101
Choosing a product to promote on Clickbank
How People Make Money as Affiliates
Module 3
Creating a Persona: Whoa re You?
Creating a Persona: What's your niche?
Choose Your Vehicle
Create a Powerful Message
Module 4
Relationship Building online
Social tools of the trade
Getting started on Facebook
Advertising on Facebook
Module 5
The Three P's of Persuasion
How to use Pain to Persuade
Show them the potential
Prove it
Copywriting tips and techniques
Module 6
WordPress Basics
Tweaking WordPress To your needs
Content Shortcuts
Getting better deals with Advertisers
Compliance and Legal issues
Module 7
Inbound Marketing – Going Organic
Blog Posts
Webinars and Video Posts
Ads and Reviews
Facebook and Twitter
White Papers
Free Ebooks and Reports
Consultations
Comments and Forums
Search Engine Optimization
Paid Traffic warnings and Opportunities
Creative Sources of traffic
Bonus Videos
These are some of Jeremy's interviews with some marketing personalities both online and offline for his shoe money show.
Free Report
In this section, Jeremy teach 5 steps to create an Audacious, Eyeball Grabbing, unstoppable Brand for your internet marketing business
30 Day Action Plan:
Find your  Focus
Target a Product
Persona Crafting
What's Your Vehicle?
What's Your Message?
Populate our Online Presence
Build a Blog
Install WordPress and create your first site
Research Competitors
Create your Email list
Content Time
Populate your list
Create a Facebook/Twitter Plan
Find the Pain
Write a Pitch
Populate Your site
Reach out to other Marketers
Network, Network, Network
Identify a Unique Advantage and Exploit it
Monetize
SEO in a Day
Guest posts
10 other content Marketing Tactics
Is it time to spend Money?
Blitzing the social scene
Turning up the heat on media and PR
Measuring Success in 1 Month
Create a second site
connecting your sites
Month 1 Down – Time to replicate
OTO 1 – Cash in Money System
This is Readymade sites and sales pages for you to download including articles, graphics, audio formatted files and also e-products which you could use. The currently available niche site packages include Affiliate marketing, Business, Environment, Family, Finance, Hobbies, Home, Internet Marketing, Jobs, learning, relationships, self-improvement and website traffic.
Jeremy said that this page will be updated every month with new niches so you can get new cool content here.
OTO 2 – A list Machine
Stay in touch
Build relationships
Choosing an Autoresponder
Double Opt-in is your friend
Creating an email sequence
Value vs. Selling
Freebies
Storytelling
Getting that email opened
Leverage social tools through email
The value of one lead
Shoe in Money Testimonial:
– By John Chow ( The Creator of Blogging with John chow Training course)
My Conclusion:
Jeremy is one of the good internet marketing experts, he has a long experience with building websites, promoting products, advertising, SEO….etc.  I always say that: "The best way for anyone to start making money online is to learn from someone who is already making money online". Jeremy has poured a lot of his knowledge and experience inside this course so I think it's worth checking out. Shoe in money training course provides good value and I'm sure you'll learn new things and find some gold nuggets to improve your online business. Click here to join Shoe in Money.
Summary
Reviewer
Review Date
Reviewed Item
Author Rating