The Total Traffic And Conversions Mastery
Vick Strizheus appeared on stage in empower network Miami event to share some of his gold traffic and conversions gold nuggets, he call it "The total traffic and conversions Mastery" and he announced his new Power Traffic X product.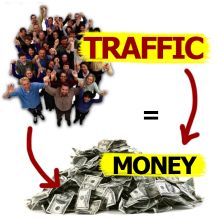 First of all, Vick said imagine if you are just getting started online today, brand new to online marketing world,
no list and very little money in your pocket, What should you do to be successful in your online business?
Vick has talked many times about his background, where he came from and his past lifestyle.
He used to live in an old little apartment with his wife and kids, at that time he didn't have much money to spend.
So it doesn't matter where you are right now, and what kind of lifestyle you have.
How To Be Successful In Your Online Business?
All You Need is:
1) Burning Desire
2) Willingness To Do What it takes
Alot of people think that all they need is traffic to get more conversions and make more money.
Ofcourse traffic is important but it's apart of the equation!
I'll talk about traffic in a moment but first of all keep in mind that inorder to make money online you need to have:
1) Success Oriented Mindset: our mindset needs to be clear in what you want.People who succeed they have clear outcome and intention to success no matter what.
2) Something To Sell: Ofcourse there are many products to sell online, you can promote or sell products on amazon, ebay, Clickbank But what i like about empower network products is that they have many great products and also a great (compensation plan).
3) Traffic: We need some traffic or visitors to our website, the more the better.
4) Conversions: we need to be able to convert traffic into email optins or leads, then convert those Optins into buyers.
The Importance of Getting Traffic
"Traffic is not everything but it's just as important for your business as oxygen for all living things" – Vick Strizheus
So Oxygen is important but if your heart doesn't work right then oxygen won't work for you, here comes the importance of conversions and how to convert the traffic into buyers.
The Breakthrough Model:
1) Quality Traffic: You need high quality and targeted traffic because not all kinds of traffic is going to convert.
2) Stand out & Capture: You need to stand out from the rest of the competition and build your elf a lead capture system or a marketing funnel that capture email optins
3) Conversion Mastery: This is very important because most people fail to convert their lead into buyers, it might be easy to get traffic and leads but you need to learn how to be able to convert those leads into sales, otherwise you have done nothing.
Infact that Breakthrough Model is messed up, the right Breakthrough Model should be rearranged as follows:
1) Conversion Mastery
2) Stand out & Capture
3) Quality Traffic
Conversion Mastery Tips
Inorder for you to have high conversions and sales, you need to:
1) Create authority in your marketing: If you are just getting started and you aren't successful
and you don't have alot of money, how do you create that authority?
-You need to do that from day one, don't wait till you became successful to create authority.
-You need to act like the person who is already earning a million dollars, even if you are in financial debt.
-You need to have a posture as a marketer.
2) Certainty: If you want to make an impact, build a team and do things on a different level forget about making money and start worrying about how to make a difference.Start talking about your vision not your goals because people buy dreams and visions, not products.
3) Value Based Marketing (creates reciprocity factor): When you're marketing to your prospects, always keep in mind that it isn't about you, it's about them.
4) Get to know your prospects: when you start collecting email prospects, start by getting to know what they really want, and what they are looking for. Send your list a free conference call (freeconferencecalling.com) or survey (www.surveymonkey.com). Keep in mind that people on your list are on other marketers lists too, so you should be smart and treat your prospects differently.
5) Respect your prospects: Many internet marketers are doing the same mistake by sending alot of promotional emails to their lists, no one like to be pitched all the time, and they will end up leaving your list.
6) Share your Ideas & business: Share what you are doing in your business with your list.
Quality Traffic Getting Tips
1) Start with 23 sources (Banner media, PPC, agencies)
2) Set a "test budget"
3) Monitor results (optins, sales)
Would you like To Master Traffic and Conversions?
Vick has announced his top notch Traffic & conversions Product that will show you tons of ways to get quality traffic and how to convert sales, it even includes a tool that can create landing pages drag and drop. Click here for my Power Traffic X review.