What is Offer Vault ?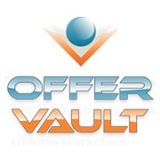 Offer Vault is a free service that can help you find products to promote, basically it is a very strong place to find products that converts well as an affiliate.Offer vault can aggregate many different products that are available online and put them together in one central location, what i mean by aggregate is that they consider many different contributing factors for each products like: How much you make per sale, how you will get paid, ..etc. And they put all the results together in one search.
The great thing about offer vault is that you can search products from different affiliate networks all in one place, affiliate network include but not limited to: Clickbooth, Clickbank, CPA Empire, CPA way, Affiliaxe..etc so rather than going into each service individually you go to offer vault and all the results are in one place, its kind like a one stop site if you like to name it. To use Offer vault you will need to signup for an account..it's free, however you still can use Offer vault without registering, but i recommend you sign up to get access to more features
How Offer Vault works?
let me show you what you will see inside offervault site and how to use it. First, when you login to your account you will find a field that says" Enter a search term below to find and compare offers" then type in the keyword or the niche name to find related products you want to promote and click search. Offer vault will show some offers from different affiliate networks, it will show the offer name, How much it pays per sale, if it has a capture lead program or not, and the Network that manages this offer, you can click on any of the search results to see more details and description for any offer.

In short, OfferVault makes comparing offers and signing up for networks much easier and it is completely free service, so if you are an affiliate marketer specially CPA offers, you should give it a try.